Itchy to the touch! I have been waiting for a product like this! I am sure there are many of you who have been waiting for such a product!
On June 2, 2023, Sambol Shokai began selling palm rests compatible with MagicTrackPad.
The product is planned and marketed by Sambol Shokai and manufactured by Bird Electronics, a well-known manufacturer of peripheral devices such as HHKB.
The product was sold out in just three days from the start of sales, due to the fact that it was a product of Sambol Shokai, in which Mr. Yazaki, former editor-in-chief of Engadget Japan, participates, and the fact that it seemed to be a product that would stick with a niche audience.
Even though it is a niche product, the fact that there was a very clear target user could be said to be a factor in the sellout.
(I'm told that only 90 units were initially manufactured, so it sounds like that's true, lol)
We were lucky enough to get "one of the 90 units" and would like to briefly review the product overview.
Note: The product will be made to order for a limited time.

Representative of GreenEchoes Studio
He launched his own media as a site operator and web writer, and now plans and manages multiple corporate media. He often types heavily in his work, and in his search for greater efficiency, he became addicted to the keyboard swamp and established "GreenKeys".
メリット
ノートパソコンと同じ位置でトラックパッドが使える
HHKBに対応した横幅設計(294mm)に対応
HHKBに対応した高さ
安心のバード電子が製造
誤タッチを防ぐしっかりとした段差
尊師スタイルでも使える
Click here for a list of coupon codes ▷▷▷
Find a keyboard layout you like.
What is Magic TrackPad compatible typing bed?
This "Magic TrackPad compatible typing bed," which sold out in just three days after it went on sale, was planned by Sambol Shokai and manufactured by Bird Electronics.
As a product, this product is a so-called generic "palm rest," but it has become too generic a name, and Bird Electronics has registered a trademark for this product as "Typing Bed ®︎".
The mechanism is simple.
The palm rest is cut into the palm rest so that the MagicTrackPad fits into it.
We felt that the concept of this product was to realize "that style of working on a notebook computer" in a desktop environment.
This, 'don't waste the most valuable space on the ground at hand!' is the key point.

Sambor Shokai's first product "Magic TrackPad Compatible Typing Bed" and the story of the beginning of Sambor Shokai #Sambor Shokai #HHKB #Bird Electronics
As a product design, it is a niche within a niche.
It stings for people like me, but the rest of you will be like, "? I guess.
To begin with, there are far fewer Mac users than Windows users, and even among the few Mac users, how many would want to achieve this style on their desktops?
However, we believe that this unlikely product design is what led to the sellout.
What is the appeal of Magic TrackPad-compatible typing beds?
The following six points are what I found attractive about the Magic TrackPad Compatible Typing Bed.
Magic TrackPad対応タイピングベッドの魅力
Trackpad can be used in the same position as a laptop
Compatible with HHKB with a width design (294mm)
Height compatible with HHKB
Manufactured by Bird Electronics for peace of mind
Firm steps to prevent accidental touches
It can be used in the noble style.
Trackpad can be used in the same position as a laptop
The most attractive feature of this product is that the trackpad can be used "without wrist pain" in the same position as the Macbook.
As described below, these mechanical keyboards have a certain height, which may cause wrist pain if a "hand rest" or "arm rest" is not installed.
Until then, the only way to achieve "this style" was to place the trackpad between the split palm rests.
BIRD ELECTRON
¥5,280
(2023/12/02 04:26:50時点 Amazon調べ-
詳細)
However, this product is so light that it shifts easily due to sweaty hands, which personally became a pain for me and I soon stopped using it.
In this regard, this "Magic TrackPad compatible typing bed" is connected between the left and right sides and can also secure a certain amount of weight, which reduces the burden on the wrist and allows typing without shifting when the palm rest is attached to the palm of the hand.
Kawamura
The best part was this "use without shifting.
Typically, the trackpad is placed on the right or left side in a desktop style.
Kawamura
#Today's Setup #Keyboard

Keyboard:Akko SPR67
Switch:Akko CS Piano
Keycap:Keychron KSA
Wristrest :@SPECIAL_PARTS_Y

I got Keychron's Hi-Pro, which I was curious about.
I've used many of them such as MA, MG, MT3, SA, etc. KSA is very good in terms of height, texture, and sphericality. pic.twitter.com/zxhigdX0BD

– Ryosuke Kawamura|Green Echoes Studio (@Hottyhottea) June 5, 2023
However, hand movement may be minimized if the trackpad is placed in front of the keyboard.
This is the perfect product for those who are heavy Macbook users and want to follow that style on their desktops without any discomfort.
Compatible with HHKB with a width design (294mm)
As you can see, it is the same length as the width of the HHKB, so it fits perfectly.
HHKB is a 60% layout keyboard.
Many palm rests are 65%/75% of the prevalent width, which is slightly longer than the HHKB, making it difficult to match the length of the keyboard body in a subtle way.
In this respect, this typing bed fits perfectly with the HHKB, which will be a great point for Mac users, many of whom are HHKB fans.
Incidentally, although the width does not match, rest assured that any size keyboard can be used without any problem.
Height compatible with HHKB
The height of the front side of HHKB is about 2 cm.
This height is the reason for the use of palm rests, which is a circumstance.
Without a palm rest, the wrist is bent backward (dorsiflexed), and typing in this state not only makes typing difficult, but may cause wrist pain….
This is where the "palm rest" comes in.
Magic TrackPad compatible typing beds are shipped with cushioned sponges in multiple heights.
By affixing the height of your choice, it is conscientious to be able to accommodate the height of your keyboard as well as the HHKB to some extent.
To make it the same height as HHKB, use the tallest one included in the package.
Kawamura
If you wish to fine-tune the height, please see this article.
Firm steps to prevent accidental touches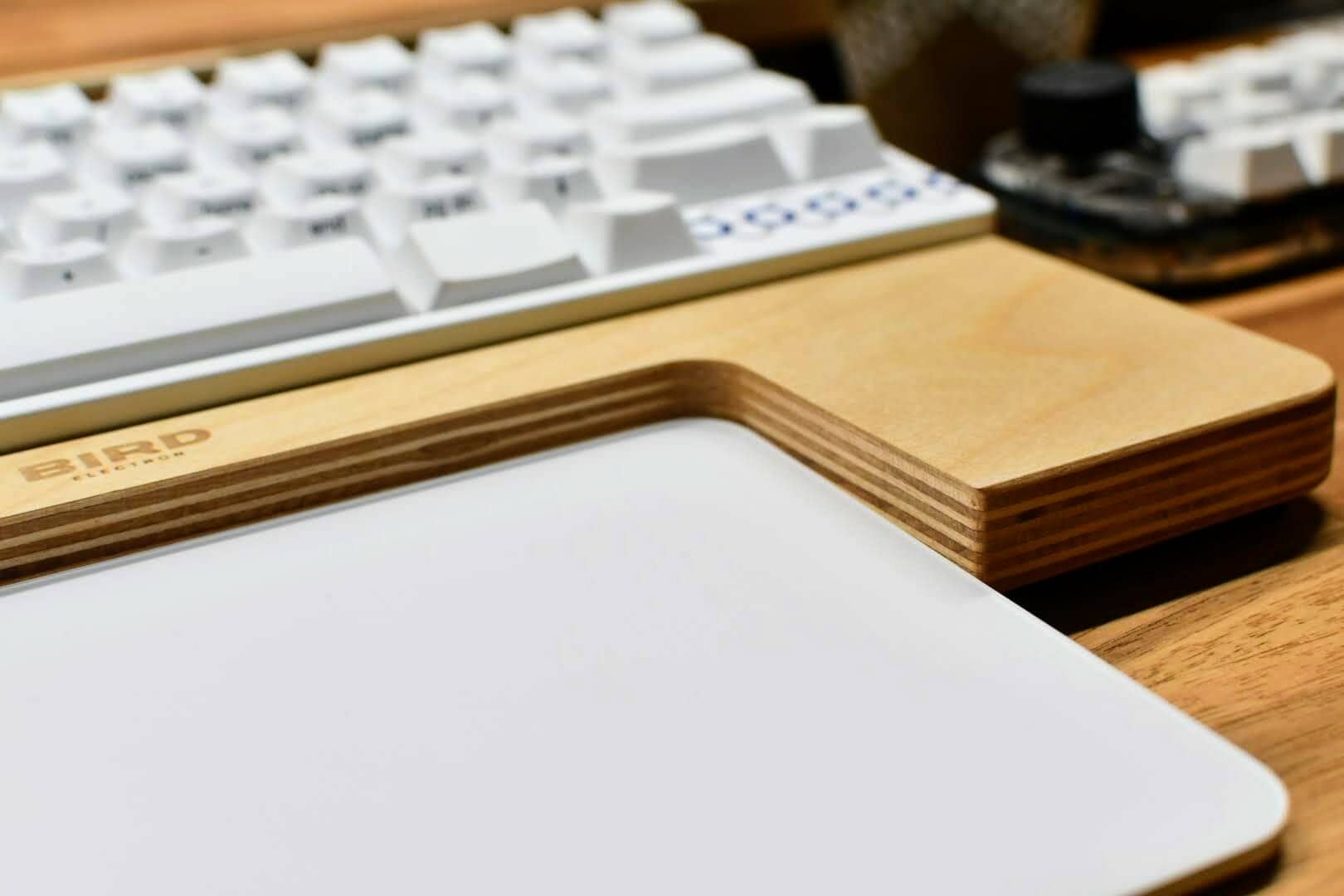 This type of product is actually produced by an individual on a certain flea market site.
The feel is almost the same, but many of them have a truer finish on the trackpad and palm rest, which caused frequent false touches when typing.
In this regard, this product has a firm step so that the palm of the hand will not unexpectedly hit the trackpad when typing.
It can be used in the noble style.
Actually, this could be used in a noble style.
The Tonshi style refers to a style in which a separate keyboard is used on top of a laptop's built-in keyboard.
Once you get used to a mechanical keyboard, your body can't type on a regular keyboard (in my opinion), so you have to lay down a keyboard bridge and use your favorite keyboard on top of it.
バード電子
¥5,280
(2023/12/02 04:26:51時点 Amazon調べ-
詳細)
However, typing with the HHKB on the keyboard bridge hurts my wrist.
If I place the split palm rest, I can use the trackpad and my hand doesn't hurt, but I can't type properly because of the misalignment.
In such cases, this product will allow typing without any slippage.
Manufactured by Bird Electronics for peace of mind
This is still a big place.
The fact that Bird Electronics, which has been manufacturing and selling HHKB peripheral parts for many years, manufactures these products is the best reassurance you can get when purchasing a product.
Disadvantages of MagicTrackPad compatible typing beds
In case you are wondering, this is a review article, so there are no disadvantages that seem to be there, but here are just a few points that caught my attention.
Oh, and as for the name "MagicTrackPad compatible typing bed", it is not catchy, so I would like to see a unique name.
It would be more fashionable from a marketing point of view.
Demerit: Lack of luxury
The MagicTrackPad compatible typing bed is made of laminated plywood.
As for the paint, it has an oil finish? The paint is smooth and silky like an oil finish, giving it a matte appearance.
When this is placed beside the HHKB, the "plywood feel" instantly becomes noticeable, which is a demerit due to the material.
The HHKB is also a plastic unit, not aluminum, so it does not have such a high-end feel, but even so, there was a "feeling of being outclassed".
I knew I wanted this place to be made of a single piece of wood.
Disadvantage: Suggestions are available for pricing.
Again, this is a suggestion about materials, but if you are going to use plywood, a price point in the low 4,000 yen range at least would make it easier to buy.
After all, with the name value of Bird Electronics, it may be difficult in some areas.
If I were to say more, I felt that it would be more popular to stick to wood and paint, use karaki or famous wood, set the price at around 15,000 yen, and sell it as a product for so-called "niche fans".
Also, in terms of materials, it would be interesting to commission manufacturers to produce products using acrylic and glass products, which are in vogue these days.
summary
So I have briefly reviewed it.
Unfortunately, the limited edition of 90 units is not available for immediate purchase.
However, based on the response on Twitter, I thought the product might sell well enough.
This could possibly be a reproduction.
PS: The "perchance" will be produced again, and will be available for order only until July 31st.
Resale information: Official ThunderVolt Twitter account ( @ThunderVolt_mag)
Please see the sales page below.
https://thundervolt.club/pages/typing-bed-magic-trackpad
Kawamura
Sambol Shokai, we would love to see your next plan for a "QMK/VIA-compatible HHKB with a split space bar" or a "split HHKB"!
I would be happy to participate!
GreenKeys also offers ultra-niche keyboard-related news and a keyboard database search.
Please go around in circles!