I can almost hear them saying, "Can you just sell me the balls…?"
Aco Brands Japan K.K., an importer and distributor of Kensinton equipment in Japan, announced in a press release the release of the Slimblade Pro(R) Wireless Trackball Gray.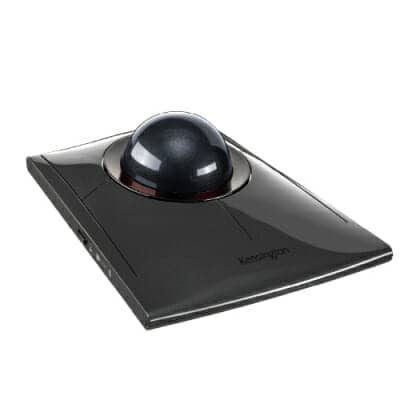 The only place to purchase is Amazon, and the price is 17,500 yen (tax included).
Sales will begin on June 20, 2023.
The Kensinton SlimBlade Pro is a wireless-connected version of the SlimBlade with a large 55 mm trackball.
The previous model had only a burgundy trackball, but the new model has a limited edition "gray" trackball color, which is sure to be popular.
As for the replacement ball for the 55mm ball, Perixx, headquartered in Germany, manufactures and sells them, but the only color available here is wine red, and since other color variations have been awaited, many people may want to have them, as they have been officially released.
To purchase, please visit Amazon.
ケンジントン(Kensington)
¥17,500
(2023/12/04 15:12:07時点 Amazon調べ-
詳細)
The following is a quote from the press release.
Product Features

Three connection types to choose from
Three connection types are available to best suit the user: wired, wireless (2.4 GHz receiver connection), and Bluetooth connection.

Rechargeable attached battery
The battery can be recharged simply by connecting to USB-C with the included wire. The battery can be recharged for approximately 4 months (under normal use). (under normal use).

Ball motion of horizontal twist for precise manipulation
The twist motion of twisting the ball horizontally allows you to easily scroll through websites and word documents.

Symmetrical design for both right- and left-handed users
Symmetrical design with reduced height, suitable for both right- and left-handed users. Long hours of work can be used while reducing strain on the hands and arms.

Operation with optical tracking technology
It has dual sensors for precise and accurate cursor tracking and scrolling.

Plug & Play ready for immediate use, flexible button customization with KensingtonWorks
The free KensingtonWorks software allows users to assign functions to buttons. Customize it to best suit your needs and maximize work productivity.

Windows and macOS support
Compatible with Windows 7 or later, macOS 10.14 or later.

Product Specifications

Product name: Slimblade Pro(R) Trackball Gray
Model Number: K72085JP
JAN: 4995364273275

system requirement
Supported OS: Windows 7 or later, macOS 10.14 or later
Plug & Play: Basic operation can be started with Plug & Play
Software: KensingtonWorksTM (button function assignment)
URL for download: https://www.kensington.com/ja-jp/software/kensingtonworks/
Device-side connection requirements: Bluetooth LE (Bluetooth 4.0/5.0 *Not compatible with Bluetooth 3.0)

USB connection interface
USB connector type: USB 2.0 connector (trackball side has USB-C connection)
Host device side: USB 2.0/3.0 Type A (USB-A to C adapter included)
Wireless connection
Triple connectivity: Bluetooth LE, 2.4GHz wireless nano receiver connection, wired connection
USB connection
Connection port: USB 2.0/3.0 port
Host connection connector: 2. 4GHz receiver, wired or Bluetooth LE (Bluetooth 4.0/5.0)

Other Functions
DPI option: 4 levels (400/800/1200/1600DPI)

Product Size
Size: 133 mm x 153 mm x 56 mm
Weight: 285g
Product color:Black

Package Size
Size: 148 mm x 195 mm x 65 mm
Weight: 475g
Package contents:
Slimblade Pro(R) trackball body
USB-C to USB-A charging cable
USB-A to USB-C adapter
handling instructions
Compliance Sheet
warranty
Guide inserts

https://www.dreamnews.jp/press/0000282131/