There are a great many criteria for selecting a keyboard.
It is also a well-known fact that the so-called "swamp" factor is so strong that there is no limit to how particular you can be about the body material, weight, hot swap or not, mounting method, and so on.
The HEAVY SHELL PARE65 is a keyboard that we highly recommend to those who are looking for not only a great typing experience, but also a great sense of satisfaction.
This article reviews the actual use of the HEAVY SHELL PARE65, which is being held in GB for a limited time at KPepublic.
Please watch to the end!
coupon code
GreenTechPare65
Use coupon code for $5.00 discount
Expiration date: November 4, 2023
PARE65 was provided free of charge for review by KPepublic. If PARE65 is purchased through this site link, GreenEchoes Studio, which operates GreenKeys, may receive compensation. Any profit generated from this page will be applied to the operation of GreenKeys. Please understand this in advance.

Representative of GreenEchoes Studio
He launched his own media as a site operator and web writer, and now plans and manages multiple corporate media. He often types heavily in his work, and in his search for greater efficiency, he became addicted to the keyboard swamp and established "GreenKeys".
メリット
打鍵感が非常に優れている
完成度が非常に高くキーボード全体の外観が美しい
使いやすい65%レイアウト
コストパフォーマンスが高く満足感がある
LEDライトマウントが特殊で美しい
デメリット
購入できる期間が非常に短い
支払い方法がPaPalに限定される
Click here for a list of coupon codes ▷▷▷
Find a keyboard layout you like.
About PARE65 Specifications
First, let's look at the specifications of PARE65.
PARE65 Specifications
Price: $311.00 (full kit – with knobs)/$303.00 (full kit – without knobs)/$249.00 (barebone kit – with knobs)/$242.00 (barebone kit – without knobs)
Case color: yellow/white/black/gray/top case yellow, bottom case white/top case white, bottom case yellow
Payment Method: PayPal only (credit card can be selected but will be cancelled)
GB Period:~October 31, 2023 deadline → extended to November 4, 2023
Arrival date: Scheduled for December 2023
Manufacturer: HEAVY SHELL STUDIO
Sold by: KPrepublic
Weight: approx. 1.6KG
Keymap change: Supports VIA
Case material: Aluminum alloy case
PCB: Hot-swappable / South facing switch LED
Plate material: FR4 plate
Mounting method: Gasket mount
Wireless connection: supported (3500mAh battery)
Wired connection: USB Typs-C
Tilt angle: approx. 8.5 degrees
Array: 65% Layout
Note: The case is constructed as a sandwich between the mid and bottom case, with the top case only for aesthetic purposes.
Available Colors
Kit Details
Full kit includes: pre-assembled, ready to use with TTC HEX switch and Domikey keycap (triple shot ABS, CHERRY profile) installed
Barebone kit contents: Keycaps and key switches are not included and must be facilitated by yourself. Also, keyboard must be assembled by yourself.
*For barebone kits, soldering is not required, so the assembly difficulty level is quite low.
TTC HEX switch
POM Housing
POK Stem
Actuation force 50gf
Bottom force 56.5gf
2-stage grod plating spring
coupon code
GreenTechPare65
Use coupon code for $5.00 discount
Expiration date: November 4, 2023
Review of PARE65 with photos of actual equipment
Let's begin our review with a look at the photos of the actual device.
The DIY kit was provided to us as a preliminary review.
PARE65 comes in a sturdy semi-soft case like this one.
Let's open the contents.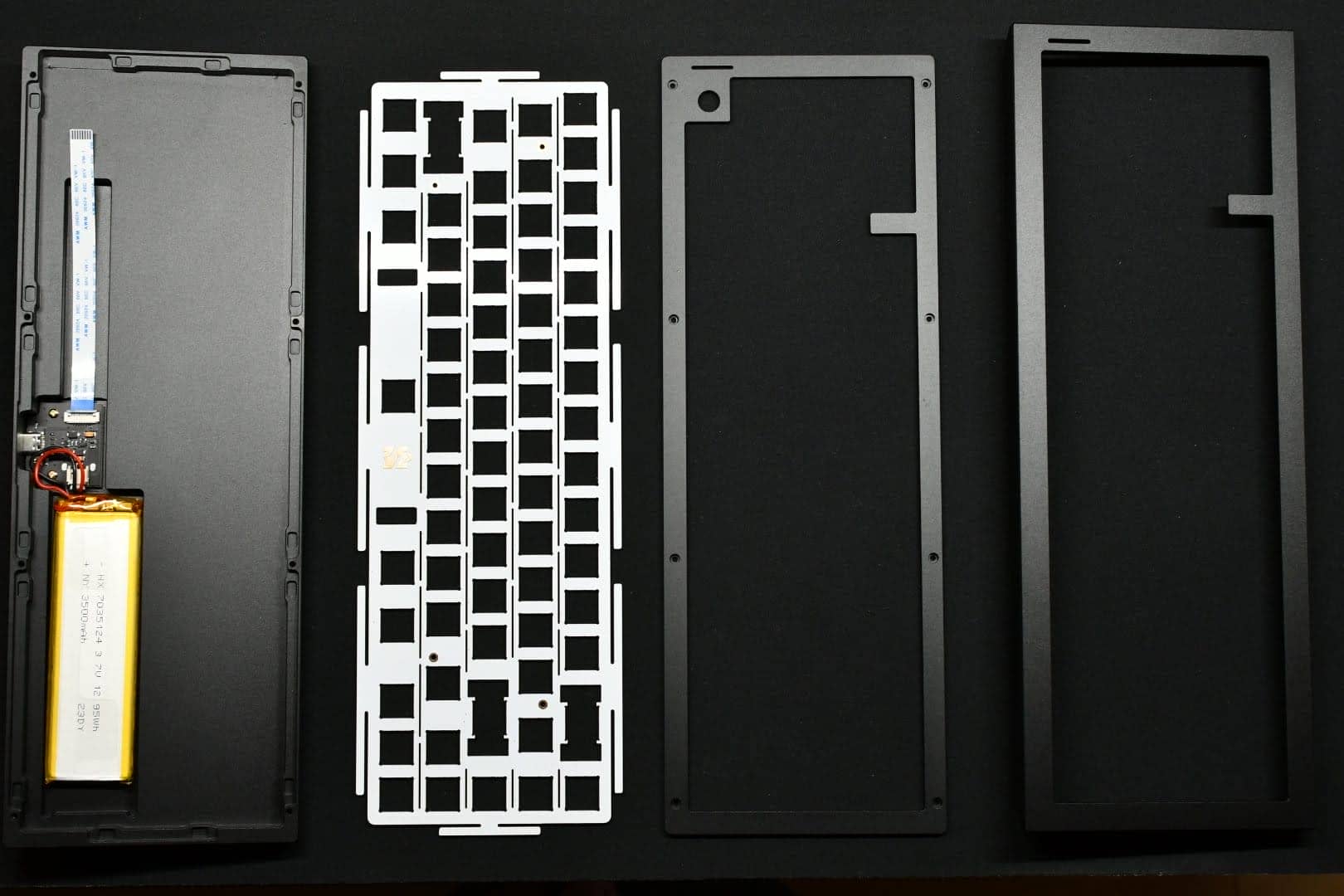 As you can see, there is quite a lot going on.
(Instructions on how to create them are provided at the bottom of the content.)
If you are familiar with assembly, you can probably create it in about an hour.
No additional soldering work is required since the PCB board is pre-soldered with Kailh's hot-swap sockets and rotary encoders.
Layout selection is not available, only the standard 65% layout is supported.
The board has a slit for cushioning.
The mounting method is a silicone sock gasket mount via a switch plate.
This simple and clear cushioning mechanism is a major mounting method used in Meletrix's Zoom series and QWERTY KEYS' QK series, and is characterized by a core key feel that is not too soft.
Very unusually, the switch plate has LEDs.
As for the power supply, it seemed to be provided from the contacts by the rotary encoder.
Perhaps because they are positioned one step higher than regular LEDs, they glow beautifully.
The case is breathtakingly beautifully sculpted, with no irregularities in the paintwork in any detail.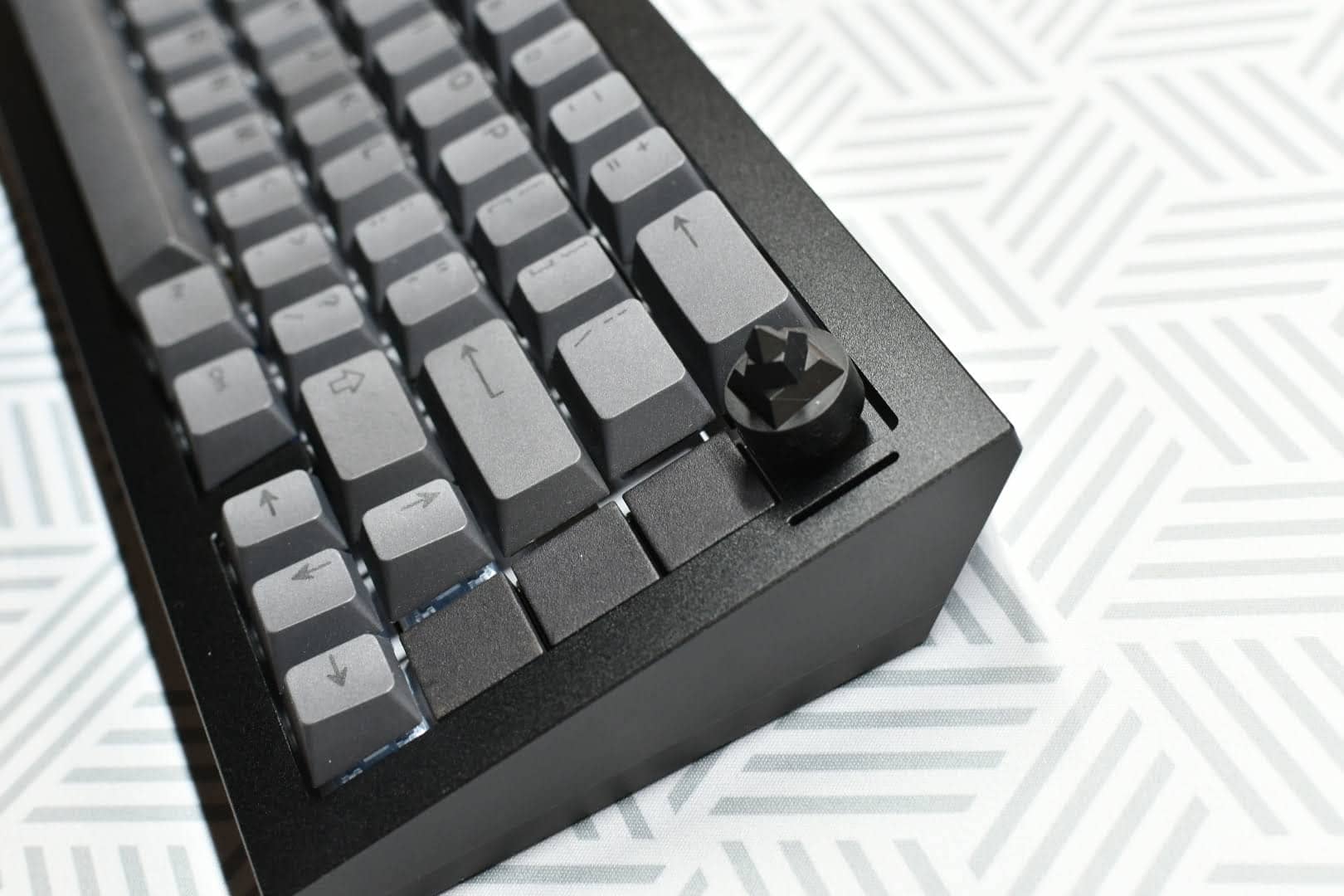 The rugged design and its weight satisfy the desire for ownership.
As for the keyboard dimensions, the bezel width is approximately 10 mm, the height of the front side of the case is approximately 20 mm, and the height of the back side is approximately 40 mm, almost the same as a typical 65% layout keyboard.
The tilt angle is fixed at approximately 8.5 degrees.
A unique feature is that the top case can be removed.
With this construction, I can enjoy looking at the entire circumference of the keyboard without making the screw holes visible on the bottom.
coupon code
GreenTechPare65
Use coupon code for $5.00 discount
Expiration date: November 4, 2023
The Benefits of PARE65
Now that we have looked at the exterior, let's take a look at some of the advantages of PAR65 that we have found in actual use.
Very good key feel
Very high degree of perfection and beautiful overall keyboard appearance
Easy-to-use 65% layout
Cost-effective and satisfying.
LED light mounts are special and beautiful
Very good key feel
First, please see this typing sound review.
The keyswitch uses NuPhy Night Breeze.
Night Breeze has a relatively loud bottoming sound and crackly keyswitches, but it has the disadvantage of being quite loud on keyboards with immature sound-absorbing mechanisms.
The PARE65's sock gasket mounting mechanism and three layers of cushioning foam work together to create a tight keystroke feel.
Kawamura
Thocky keyswitches, such as Domikey Deepsea, will give you a more thumping sound.
Very high degree of perfection and beautiful overall keyboard appearance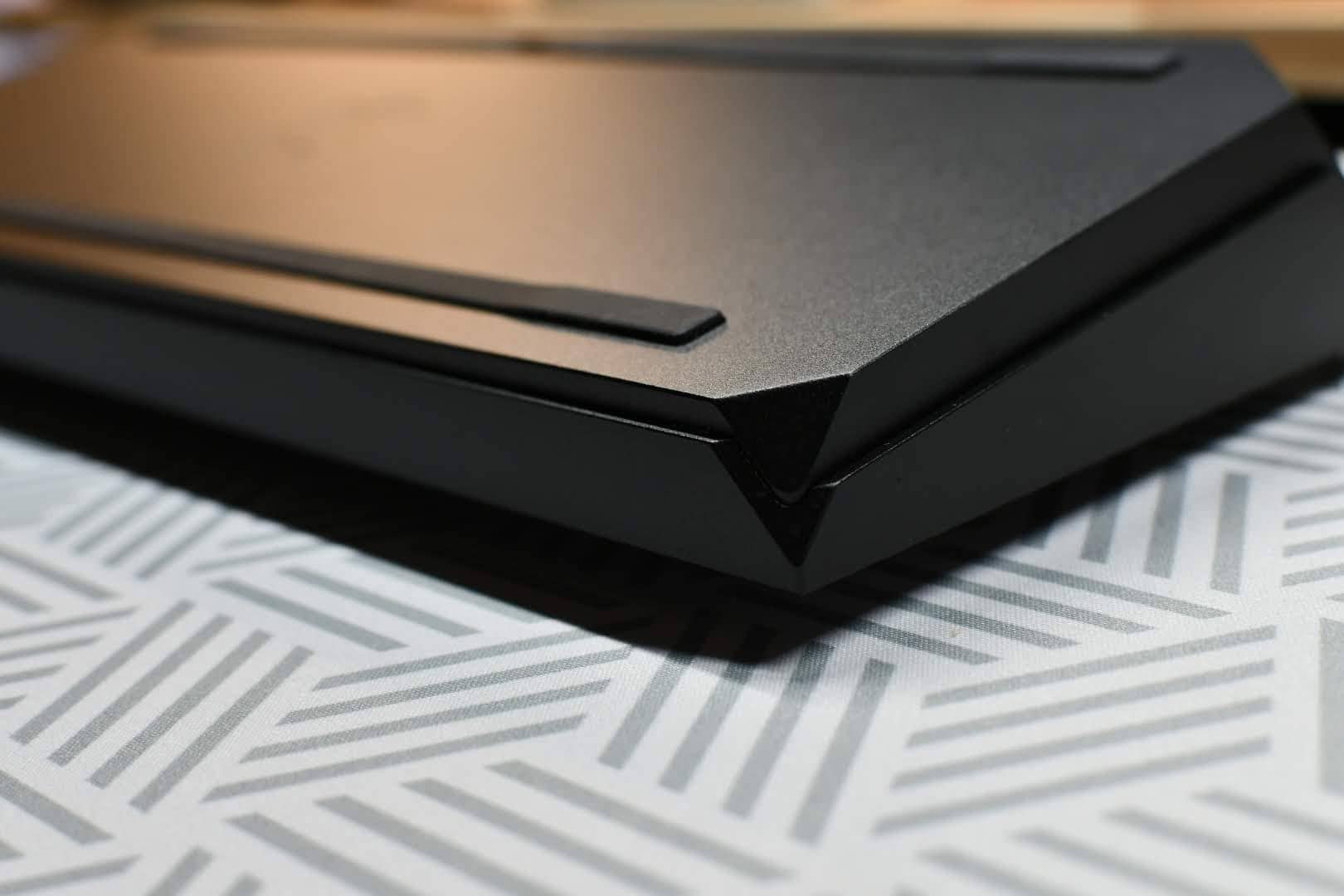 This is better if you take a closer look at the pictures rather than the text.
The PARE65 is a truly beautifully shaped keyboard.
The keyboard as a whole is a work of art as a single metal frame, aided by the thoroughness of not showing the screw holes.
Easy-to-use 65% layout with keymap changes
Although PARE65 does not have any layout variations, it is a popular 65% layout, so it will be a smooth transition from any keyboard.
The function keys can also be entered by combination typing with the Fn key on the right side of the space bar and the numeric keys.
The most important point is that it is an independent arrow key.
Kawamura
Personally, I block the first row on the right side with a key switch blocker because it causes more miss-touches.
In addition, VIA support allows the user to change the keymap as well as register macro keys.
Cost-effective and satisfying.
PARE65 is extremely cost-effective.
The barebone kit starts at $242.00, which is inexpensive for such luxurious metal materials at this price point.
Kawamura
It is quite expensive compared to a typical popular keyboard, but usually a high-end keyboard with this level of specifications costs about $400.00.
LED light mounts are special and beautiful
PARE65 LED lights are attached to the back of the switch plate, not to the PCB base.
This will allow you to enjoy even more vibrant lighting than with a regular keyboard.
coupon code
GreenTechPare65
Use coupon code for $5.00 discount
Expiration date: November 4, 2023
The Disadvantages of PARE65
Now that we know about the appeal of PARE65, let's look at some of the disadvantages you may want to check before you buy.
Very short time available for purchase.
Payment methods are limited to PaPal.
Kawamura
To be honest, I can't find any disadvantages that would bother me that much product-wise. Therefore, we have listed the factors surrounding the product as demerits rather than the product as a whole.
Very short time available for purchase.
Perhaps the most significant disadvantage of PARE65 is that it is available for purchase for a very short period of time.
PARE65 can only be purchased from the vendor, KPrepublic, and is not a regular sale item, but a "group buy format" (GB format), which means that it is available for a very short time.
The purchase deadline is. November 3 (EST) and ends on November 4 (Japan time). and you need to make your decision as soon as possible.
Kawamura
Probably no stock sales.
Since this is the only opportunity to buy it, you will have little regret if you get it if you are at all interested in it.
Payment methods are limited to PayPal.
PayPal is the only accepted payment method for PARE65.
Please note that credit card payments are not available for purchase.
Kawamura
Personally, I believe that using PayPal is more secure than entering your own credit card information for overseas purchases.
How to build PARE65
Let's take a brief look at how to assemble the PARE65 DIY kit.
If you would like to see it on video, please see the official video.
スタビライザーを組み立ててPCB基盤にネジ止めする
Stabilizers are support mechanisms for the stable use of long horizontal keyswitches such as the space bar and enter key.
It must be assembled as shown in the figure below.
The white parts are oriented in such a way that they fit in only one direction, so you will not get lost.
Fit the wire into the indentation until it "snaps" into place, and you are done.
It is recommended to lubricate (lube) as needed.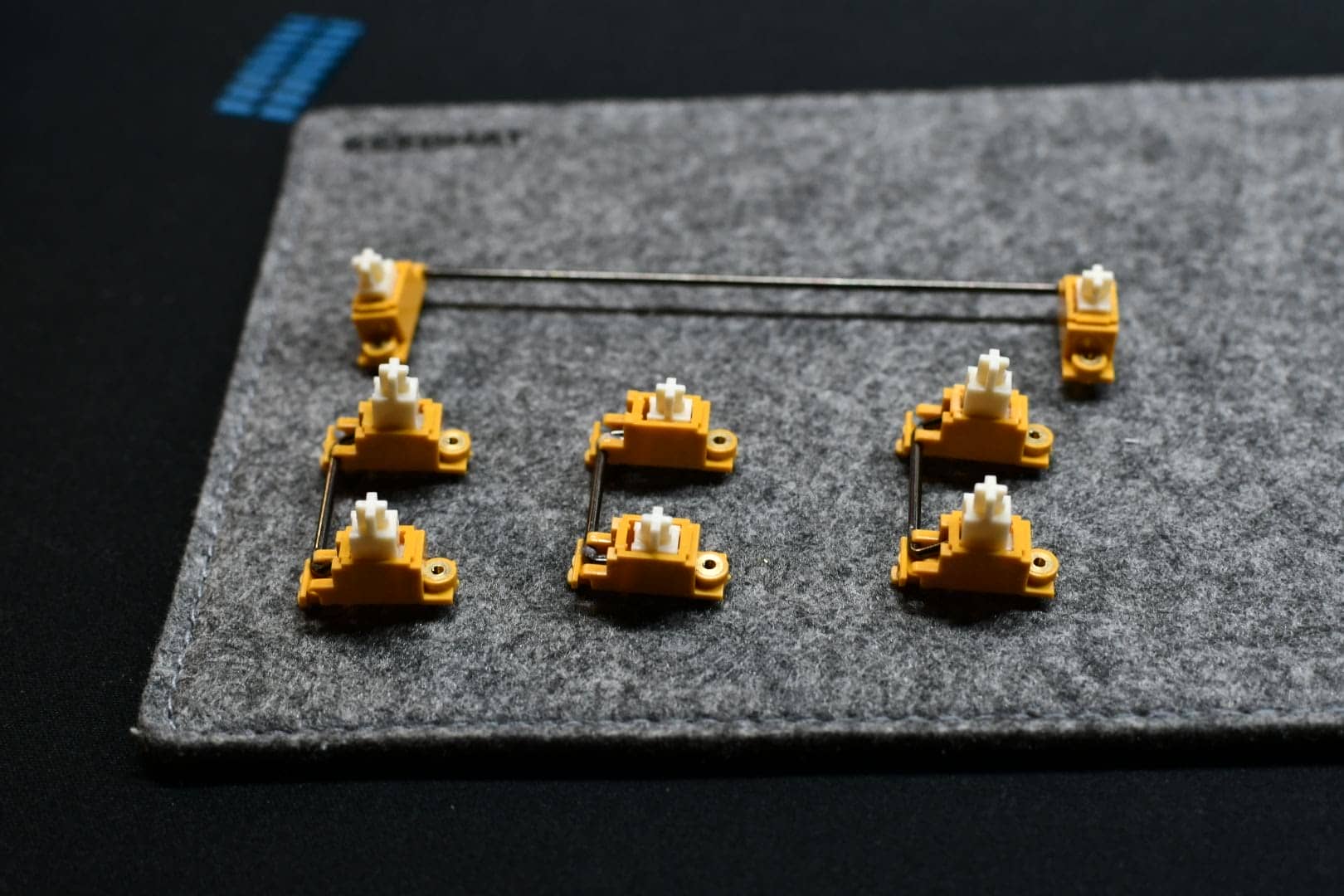 After the stabilizer is completed, the switch sheet is laid down, then the stabilizer is fitted into the recess and screwed in place.
As for the screws, use ones that can be tightened with a Phillips screwdriver, and don't forget to include clear plastic washers.
In the unlikely event that the stabilizer is installed before the switch seat is laid down, it is possible to proceed without problems by cutting a portion of the switch plate.
基盤とドーターボードを接続する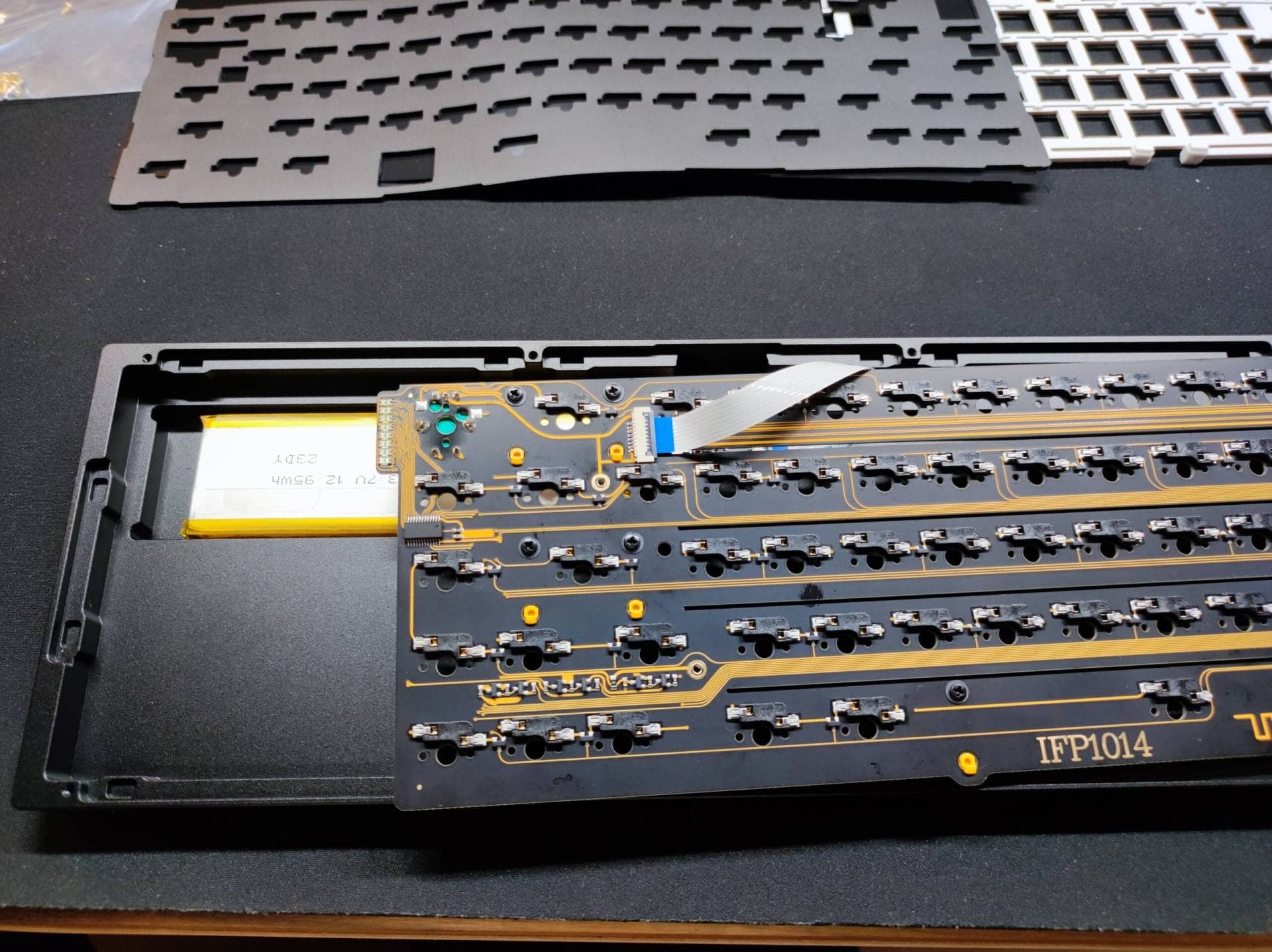 Let's flip up the black part of the base and insert the thin cable coming out of the daughter board.
Once inserted, lower the black part to secure the cable.
各種シートをフォームを順番に敷いていく
Once the daughter board and substrate are connected, the sheets are laid down in order.
Carefully place an insulation sheet and PCB foam under the substrate to keep the connected daughter board and PCB base apart.
Once this is done, place the switch form on top of the substrate.
スイッチプレートにシリコンガスケットソックスを装着→基盤にネジ止めする
Place the white silicone gasket sock into the protrusion on the switch plate, as shown in the photo.
Then, using gold screws, screw the base and switch plate together.
ミドルケースを装着してスイッチプレートを固定する
Use special star-shaped screws to secure the middle and bottom cases.
トップケースを乗せる
Finally, the top case is placed on top.
The top case is held in place by a silicone pad affixed to the inside of the case, which acts as a non-slip surface.
Summary|If in doubt, you should buy a one-of-a-kind keyboard.
This is my review of PARE65.
The key feel is similar to that of the Zoom65 and QK65, which use the same aluminum body and sock gasket mounting system, but the overwhelming weight of the case also contributes to the outstanding stability of the keys.
A keyboard made of such a luxurious piece of metal and available at this price is a real rarity.
The GB period is short and there is little room to think…but if you have any doubts at all, you will not regret buying.
We hope PARE65 will be your partner in a wonderful keyboard life.
coupon code
GreenTechPare65
Use coupon code for $5.00 discount
Expiration date: November 4, 2023