On June 15, 2023, Kopec Japan, the authorized distributor of Keychron in Japan, updated its official Twitter account to announce the launch of new authorized sales of Keychron K2 Pro in Japan.
(Again, no announcement on the official website )
Prices start at 18,920 yen (including tax), with the RGB light model priced at 22,330 yen (including tax).
As for the key layout, you can choose between Japanese and English layouts.
This is good news for those who have been waiting for Japanese-language sequences.
All are hot-swappable, and the keyswitches are available in Keychron K Pro series red-, blue-, or brown-axis.
The key profile is OSA, and only the English layout is double-shot PBT material, while the JIS model is laser-engraved on ABS material.
Supports QMK/VIA, so you can change the key layout to your own preference
Technical conformity certified, so wireless connection is possible in Japan.
75% layout with function keys familiar to Japanese
Keycaps can be replaced and keyswitches are interchangeable
Japanese-language models are available. However, Japanese-language models have keycaps made of ABS material.
The product can be purchased at the official online store of Kopec Japan and online stores such as Rakuten Ichiba.
The Keychron K2 Pro went on sale on December 6, 2022 from the official sales website.
Looking at recent trends, we have the impression that sales of models with technical qualification from Kopec Japan are often around six months after the official website sales.
With the popular 75% layout, Japanese layout, hot-swappable, and wireless connectivity, this is going to be very popular.
Keychron K2 Pro Japan domestic sales specifications
Product name: Keychron K2 Pro
Total number of keys: 87 (Japanese) / 84 (US)
Multimedia keys: 12 keys
Main body material: Aluminum and ABS or ABS plastic
Keycap material (US): Low-profile double-shot PBT (not transparent)
Keycap material (JIS): Laser engraved on low-profile ABS (transparent)
MCU: Ultra-low power Arm Cortex-M4 32-bit STM32L432 (128KB Flash)
Backlight: RGB or White LED
Supported systems: Windows/Android/Mac/iOS
Switch: Keychron K Pro mechanical
Battery: 4000mAh rechargeable lithium polymer
Bluetooth operating time: up to 100 hours (at minimum RGB brightness)
Connection: Bluetooth and USB TYPE-C
Bluetooth version: 5.1
Size (plastic frame): 316.6 x 116 mm, height 24.85 mm (keycap front)/33.2 mm (keycap rear)
Size (aluminum frame): 316.6 x 126.91 mm, height 24.85 mm (keycap front)/33.2 mm (keycap rear)
Weight: approx. 940g (plastic), approx. 1070g (aluminum)
Contents: K2 Prox1 (keyboard includes: PCBx1, platex1, sound absorbing foamx1, silicone bottom padx1, stabilizerx4, keycap, Keychron K Pro switchx1set), Type-A to Type-C cablex1, switch puller x1, Keycap puller x1, Screwdriver x1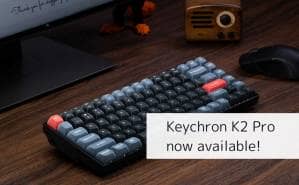 Information and image reference: Kopec Japan