Logitech Signature K855 Wireless Keyboard was released on August 4, 2022. The Signature K855 Wireless Keyboard was released on August 4, 2022.
Logitech had previously released a mechanical keyboard, the K835, which was wired and compatible with Windows, but the newly released K855 supports wireless connectivity via Bluetooth and is compatible not only with Windows but also with macOS, ChromaOS, Linux, and Android. Linux, and Android as well as Windows.
Logitech has a number of attractive mid-profile mechanical keyboards, such as the G913, but none of them support Macs, so core Logitech fans and Mac users have been waiting for the K855.
If you want to use a Logitech Mid (Hi) Profile mechanical keyboard on your Mac, the K855 is the perfect solution. K855 is the best solution.
We will review this K855 in this issue.
【新製品】ロジクール SIGNATURE K855 ワイヤレス メカニカル キーボード テンキーレス 赤軸 リニア Logi Bolt Bluetooth Unifying非対応 無線 K855GR K855OW K855RO K855BG 国内正規品 2年間無償保証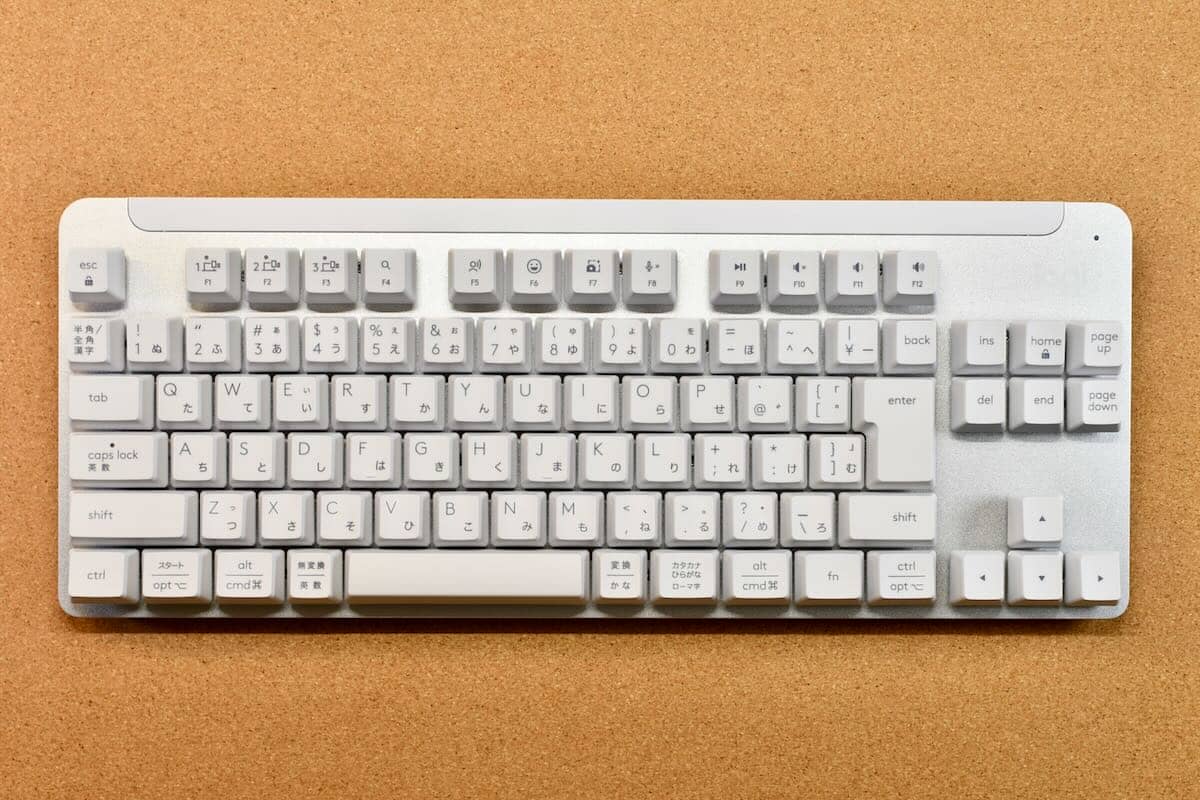 メリット
価格が安い
BluetoothとUSB無線(Logi Bolt)の接続方式に対応
打鍵感が優れている
立てられるため収納スペースに困らない
アルミニウム質感が高く美しい
テンキーレスでコンパクト
デメリット
打鍵音が大きい(うるさい)
USB接続ができない
バックライトがない
ホットスワップ非対応
裏蓋がチープで壊れそう
US配列がない
Discount Code: ryo10 ryo10 to save 10% off your purchase.
Discount Code: UPGRADE20 UPGRADE20 (for Air75v1 Users Only)
Click here for a list of coupon codes ▷▷▷
Find a keyboard layout you like.
Logitech Signature K855 Overview
Let's begin with a summary of K855.
Body size
Height: 138.8mm Width: 355.2mm Depth: 38.8mm Weight (including batteries): 692.4g
Technical Specifications
Connection type: Bluetooth Low Energy wireless (Bluetooth 5.1)
Wireless communication range: 10 m Wireless communication range may vary depending on the operating environment and computer conditions.
Mechanical Switch: Red (Linear) Easy-Switch: Connect up to 3 devices and easily switch between them
Battery life: up to 36 months Battery life may vary depending on user and usage conditions.
Indicator lights: Caps Lock, Easy-Switch key and on battery.
Optional software: Logitech Options+ for macOS 10.15 or later and Windows ® 10, Windows 11 or later
Logitech Flow: Compatible with Logitech Flow-enabled mice
Backlight: None
Warranty Information
2-year free warranty
model number
Blue-gray: K855BG
Rose: K855RO
Graphite: K855GR
Off-white: K855OW
system requirement
Logi Bolt USB Receiver
Required: USB port
Windows 10, Windows 11 or later/macOS 10.15 or later/Chrome OS™/Linux®.
Bluetooth Low Energy
Required: Bluetooth Low Energy wireless technology
Windows® 10 or later macOS 10.15 or later iPadOS 14.0 or later iOS 14.0 or later Chrome OS Linux Android™ 8.0 or later
Internet access (when downloading Logi Options Plus software) Logi Options+.
included thing
Wireless Mechanical Keyboard
AAA alkaline batteries x 2 (installed)
Logi Bolt USB Receiver
Warranty and Warranty Policy
Information reference: https: //www.logicool.co.jp/ja-jp/products/keyboards/k855-signature-wireless-mechanical-tkl.920-011080.html
The K855 has a compact size with a tenkeyless keypad, and its most distinctive feature is the use of Mid Profile mechanical switches that are compatible with non-Windows devices.
Until then, Logitech products had pantograph keyboards such as the MX Keys series and low-profile mechanical keyboards such as the MX MECHANICAL, but not mid-profile mechanical keyboards.
This K855's number one advantage is that it "works on Macs, too." is that it can also be used on a Mac.
In terms of coloring, in addition to the existing "Graphite (K855GR)" and "Off White (K855OW)," new colors "Blue Gray (K855BG)" and "Rose (K855RO)" will be added on September 8, 2022, bringing the total to four colors.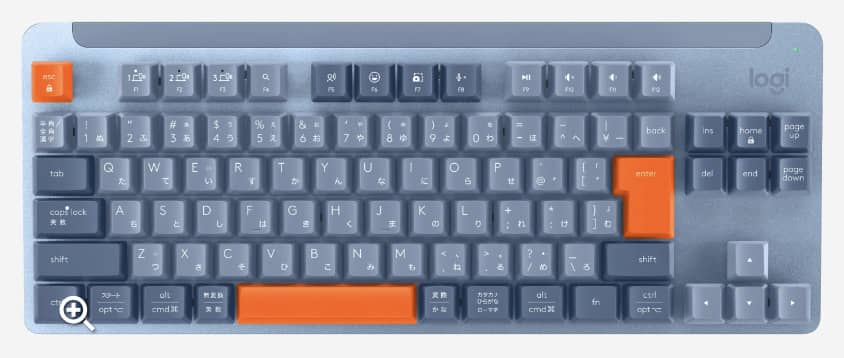 Let's take a closer look.
K855 price|A reasonable keyboard available for about 10,000 yen
【新製品】ロジクール SIGNATURE K855 ワイヤレス メカニカル キーボード テンキーレス 赤軸 リニア Logi Bolt Bluetooth Unifying非対応 無線 K855GR K855OW K855RO K855BG 国内正規品 2年間無償保証

Many people may think the price of a keyboard is "expensive" when they hear that the price is around 10,000 yen.
The cheapest keyboards are those that use a mechanical keyboard.
Many regular keyboards are less durable than mechanical keyboards, such as pantograph and membrane keyboards, which are quieter, have less keystrokes, and offer excellent cost performance, and many can be purchased for less than 5,000 yen.
On the other hand, mechanical keyboards use physical "switches" for inputting data, so they are generally more expensive than pantograph or membrane keyboards, with most costing 10,000 yen or more, due to the number of manufacturing processes and parts involved.
It is "inexpensive" to purchase a wireless mechanical keyboard for "about 10,000 yen" under the Logitech brand, which has authority in keyboard manufacturing.
It is my personal opinion that spending money on an input device, even if somewhat expensive, is not at all regrettable for those whose job is to type.
It will surely improve the efficiency of your work.
Axis type
The axis of the keys, the heart of the mechanical keyboard, is made by "TTC" of China.
Logitech K855 mechanical switches
| | |
| --- | --- |
| Manufacturer | TTC |
| pressing pressure | 45g±15g |
| Pushdown durability | 50 million times |
| Movement to operation | not yet officially announced |
| keystroke | 4.0±0.4mm |
| reaction | Linear (red axis) |
| sound | quiet |
| sample | |
The MX MECHANICAL series released by Logitech on June 30, 2022, and Logitech's mechanical keyboards for gaming, for example, use Logitech's proprietary mechanical switches.
After all, developing a proprietary switch is expensive, so Logitech explains as follows.
Explain that TTC switches are used to keep costs down.

Quote: Mynavi News
I personally do not feel that the lack of proprietary switches is a disadvantage, as I believe that cost performance and performance can be better guaranteed if the keyswitches are manufactured by other companies rather than being developed independently.
We believe that it is more advantageous for Keychron to actively adopt axes other than its own and offer them at a reasonable price, except for high-end keyboards such as HHKB and REALFORCE, or even different.
Light typing even with the deep keystrokes characteristic of mechanical keyboards
The key pitch of the K855 is 19mm, the same as a typical full-size keyboard, and compared to today's compact notebook keyboards, there will be little "finger jamming" feeling.
TTC's mechanical key switches have a key stroke of 4±0.4mm, which is about 1mm "deeper" than the MX MECHANICAL.
Since the "red axis" with its linear typing feel is adopted, there is no "catching" feeling in the middle compared to the brown or blue axes, and typing may be relatively smooth for those who usually type on a notebook keyboard as if stroking it.
However, since the key stroke of notebook computers such as Macbook is less than 1mm, using a mechanical keyboard requires a certain amount of "pushing in" work to be sure, so some degree of familiarity is considered necessary.
Nevertheless, the need to "push in surely" may reduce typing errors for those who are typing while stroking.
In general, the "red axis" of mechanical keyboards tends to be quieter in typing than other axes, making it suitable for office work.
However, compared to the quiet models of HHKB Professional Hybrid Type-S and REALFORCE R3, there is a certain amount of "clacking noise", so we recommend the above for those who expect "super quietness".
No keyboard backlight, etc.
Unfortunately, the As for keyboard backlighting, which is standard on MX series keyboards, the K855 does not have it.
This is unavoidable due to cost reduction.
Personally, I have no problem with this at all, as I do not see the need for backlighting, even on gaming keyboards.
If I am typing in the dark, I use a neck light.
Glocusent
¥2,599
(2023/09/25 04:30:47時点 Amazon調べ-
詳細)
The main unit can be stored upright for a clean desk area.
Keyboards are often surprisingly difficult to "store".
Especially in office work, the area of one's desk is often limited, and there are many opportunities to move the keyboard out of the way when there is a lot of paperwork to be handled.
In such cases, K855 is also useful.
The K855 has a flat back and can be stored "standing" on its own.
This can be tucked upright by the monitor and will reduce clutter around the desk.
Bluetooth /Logi Bolt USB receiver supported as connection method
The K855's connection to a computer is "wireless" only, no wired connection is available.
Two wireless connection methods are available: one using the Bluetooth function of the PC itself, and the other using Logitech's proprietary Logi Bolt USB dongle, the Logi Bolt USB receiver.
Pairing with devices is possible with up to three devices simultaneously, and switching between devices can be easily performed by simultaneously pressing the "Fn key" and the switching button in the upper left corner of the keyboard.
The ability to switch between Mac and Windoe at the touch of a button will be very useful, as it can be used across operating systems.
Mac users also need to turn off the FileVault feature to avoid the problem of not being able to enter the password on the login screen.
Not only Logitech products, but also non-Apple third-party wireless keyboards must be unencrypted for the entire disk, called "FileVault," when using non-Apple third-party wireless keyboards on a Mac with the built-in Bluetooth function.
Without unlocking it, you cannot use a third-party wireless keyboard to enter your password at the login screen.
On a Mac, select Apple Menu > "System Preferences
Click on "Security and Privacy" and then "FileVault
If the lower left lock is locked, click to unlock the preferences panel.
Click on "Turn off FileVault
Click on "Turn off encryption
However, if you use the "Logi Bolt USB Receiver", you can enter the password on the login screen even when FileVault is turned on.
Turn off FileVault encryption at your own risk.
Kawamura, the manager, has a raft of BT-connected keyboards that do not support Logi Bolt, so FileVault is turned off.
If the keyboard can be used with a USB connection, such as the HHKB Professional Hybrid, there is a way to use a USB connection only when logging in, but since many keyboards are BT-only, it is unavoidable to turn off the connection.
Driving system is not rechargeable, but battery-powered.
Most models in Logitech's top-of-the-line MX series of keyboards and mice use a "USB rechargeable" system.
The MX Master3s, MX ERGO, MX Keys, and MX MECHANICAL are of course "charged" via USB Type-C to the lithium battery inside the device.
On the other hand K855 uses a "battery-powered" system that runs on two AAA alkaline batteries. On the other hand, the K855 is battery-operated.
This is presumably to reduce costs, but more importantly, it is a benefit of not having to recharge the batteries. The batteries also do not need to be replaced frequently, as they are nominally rated to last up to 36 months.
Numeric keypad-less size prevents typing errors inherent in compact size
The K855, like all recent Logitech keyboards, has a top row "function key row" with function keys.
The Easy-Switch button for switching between paired devices, the pictogram function, and calling up the voice recognition function are all located to enhance the convenience of the media control buttons.
In addition, the Since the "directional keys" and "special keys" are arranged separately, which is a major feature of a tenkeyless keypad, the advantage of having far fewer wrong entries compared to MX MECHANICAL and Keychron K2/K3 will be very significant.
Because of this placement of the special keys in a single right column, there Possibility of very frequent and stressful typing errors due to frequent pressing of special keys when pressing the backspace key. There is a
In some cases, the directional keys are arranged in a single horizontal row, as on the Keychron K3, so that people accustomed to blind touch may not be able to press the keys at all.
With that said. The K855 is also tenkeyless in size, which means that the special keys and directional keys are independent, allowing for stress-free blind touch.
In MX MECHANICAL, the keycap on the right row has been removed.
K3 has been kept in storage because the directional keys are too specific.
After all, for compact size, I would prefer something without special keys itself like HHKB or MX Keys mini.
Logitech Signature K855 Keystroke Review
This is a keystroke review by the author using an actual device.
Photographed by Nikon D7500
Audio: SHURE Beta58 (off-mic)
Logitech Signature K855 actual device review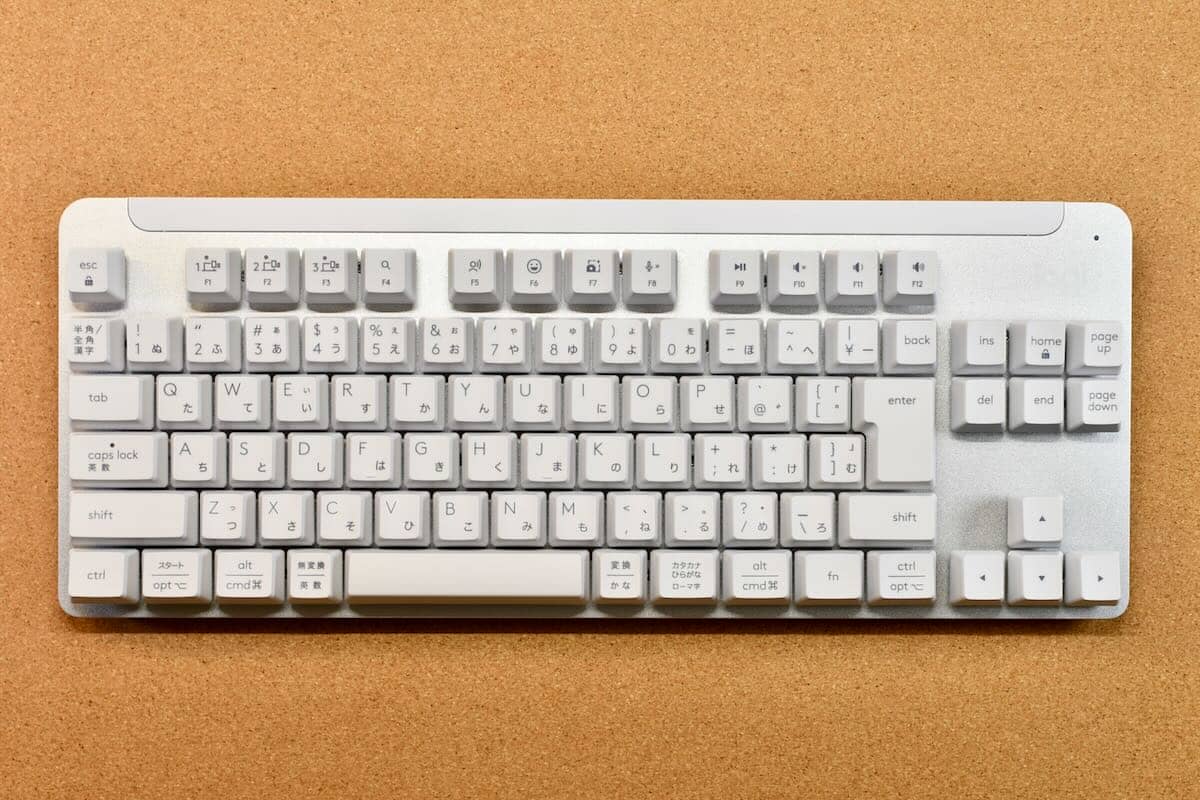 Let's take a look at the details of the product using the actual device.
The key pitch is full-size (19 mm) and does not feel cramped in the hands at all.
Another great feature of the K855 would be that it can stand on its own in this way.
It is powered by dry cell batteries, not rechargeable batteries, and has a battery compartment on the back.
I'm a little concerned about the strength of the plastic on this lid….
Also, a storage box for the Logi Bolt USB receiver is provided next to the battery box, so there is no need to worry about losing the receiver when carrying it around. (Logi Bolt USB receiver is an accessory)
The keycap design features all keytops facing up, similar to the HHKB.
This is called "step sculpture.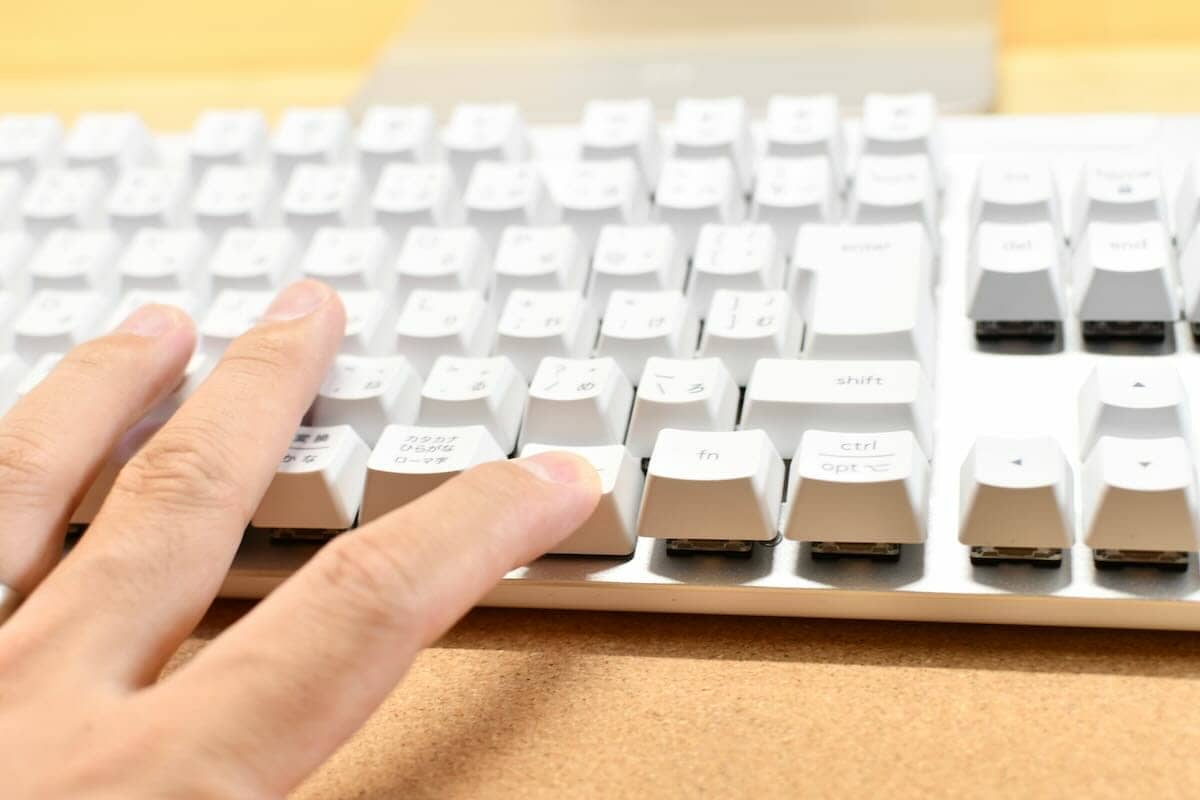 The sinkage when striking keys is about 4.0 mm, which is sufficient for a comfortable press.
The axis is a red axis made by TTC.
I see that the keycap has a spherical design with a concave center.
The switch itself is quiet, but the sound of contact with the base (bottoming out) is slightly louder, which may be a concern when used in quiet offices.
The key layout is designed to be compatible with both Windows and Mac, as expected of Logitech.
I am very happy because the G913 had a Windows-only key layout.
The base has an aluminum top, which is very unlike the texture of keyboards available in the 10,000-yen range.
The tilt leg has two steps of 0° and 8°.
【新製品】ロジクール SIGNATURE K855 ワイヤレス メカニカル キーボード テンキーレス 赤軸 リニア Logi Bolt Bluetooth Unifying非対応 無線 K855GR K855OW K855RO K855BG 国内正規品 2年間無償保証

Logitech Signature K855 General Comments
Let us now summarize the advantages and disadvantages of K855 based on the explanations given so far.
Advantages and disadvantages of K855
Advantages
demerit

Low price




Supports Bluetooth and USB wireless (Logi Bolt) connection methods




Excellent key feel




Can be stood up for easy storage space




Aluminum textured and beautiful




Compact with no numeric keypad

Loud (noisy) keystrokes




USB connection is not available




No backlight




Hot-swap not supported




The back cover is cheap and looks like it's going to break.




No US sequence (

international models have it)
Advantages of K855
The benefits of K855 are as follows
Low price
Supports Bluetooth and USB wireless (Logi Bolt) connection methods
Excellent key feel
Can be stood up for easy storage space
Aluminum textured and beautiful
Compact with no numeric keypad
Overall, the product boasts outstanding quality for an easy-to-buy mechanical keyboard in the 10,000-yen range, making it a very good value.
Wired connection is not available, but wireless connection (USB wireless) with guaranteed security is available by using Logi Bolt.
It is tenkeyless, compact, and can be stored in an upright position for easy handling.
The Logi Bolt storage area is also built into the main body, and its light weight makes it easy to carry.
It is an excellent introduction to mechanical keyboards.
【新製品】ロジクール SIGNATURE K855 ワイヤレス メカニカル キーボード テンキーレス 赤軸 リニア Logi Bolt Bluetooth Unifying非対応 無線 K855GR K855OW K855RO K855BG 国内正規品 2年間無償保証

Disadvantages of K855
The disadvantages of K855 are as follows
Loud (noisy) keystrokes
USB connection is not available
No backlight
Hot-swap not supported
The back cover is cheap and looks like it's going to break.
No US sequence (international models have it)
It should be noted that the "typing sound is noisy.
The volume is about "standard" for mechanical keyboards, and the red-axis keyboard is not particularly loud, but it is likely to be "noisy" for first-time mechanical keyboard users.
Use in a quiet office will probably be quite disturbing, so we recommend using the system in a workplace with some buzz.
Another point of concern is the cheapness of the back cover, which blocks the battery compartment and Logi Bolt receiver storage area.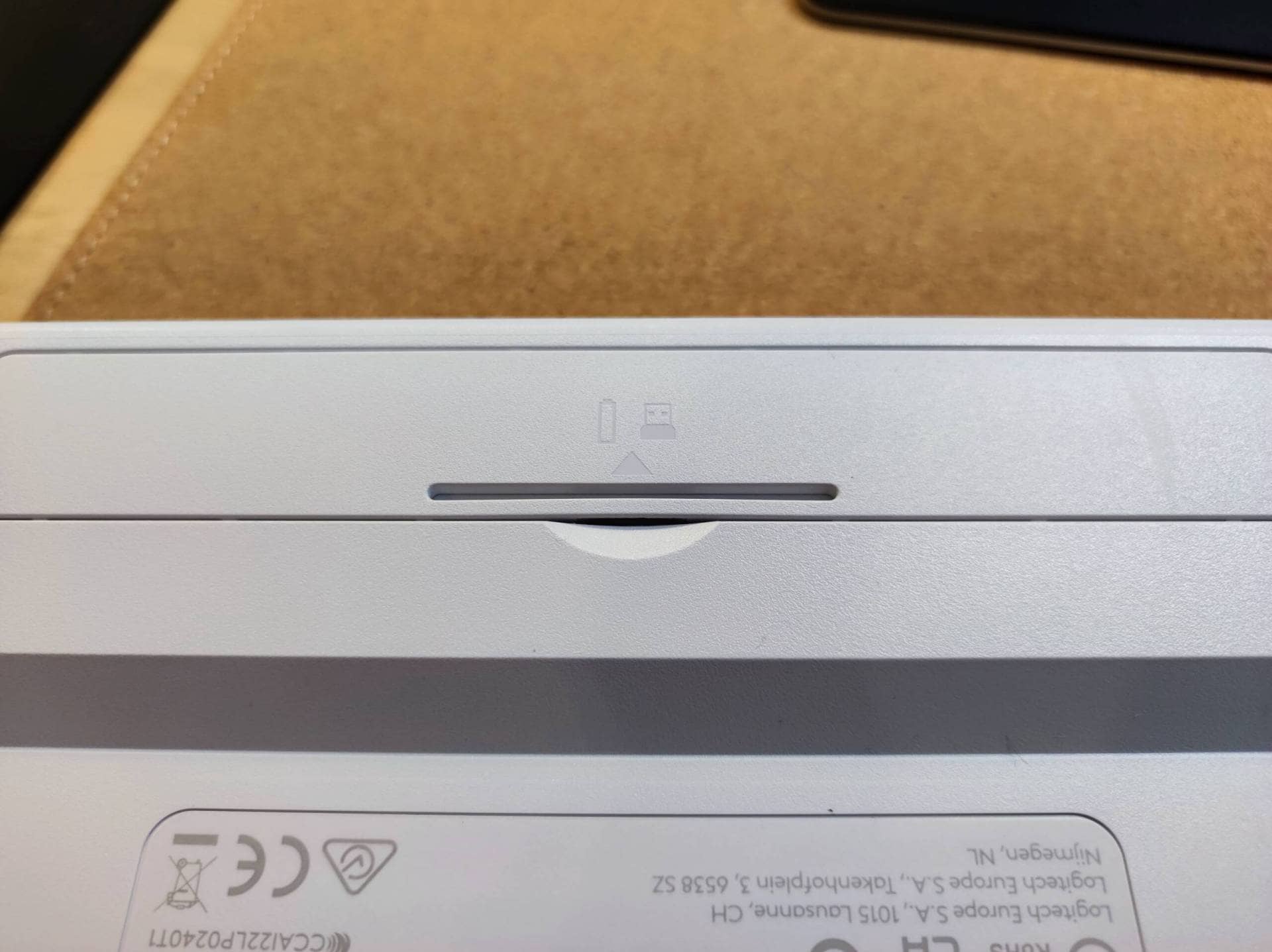 I feel that the plastic "deflection" like the lid of an alarm clock is used to open and close it, and therefore is more likely to be damaged by repeated use.
In addition, the fact that only JIS layout models are available is also a disadvantage.
Although the "K855 US array model" exists overseas, it may still be considered "unfashionable and unsaleable" in the Japanese market.
If you really want an 80% tenkeyless keyboard in white, consider REALFORCE.
Summary|K855 is recommended only for Mac users.
The above is an introduction to the Logitech Signature K855 from the perspective of a Mac user.
I know it is rare to find a Gen Xer who was forced to use the G913 with Karabiner-Elements, but I am not the only one who is very happy that Logitech brand has finally released a Mid Profile mechanical keyboard that can be used with Macs.
As an introduction to mechanical keyboards for Mac, the K855 is perfect. K855 is the perfect introduction to mechanical keyboards for the Mac.
One you can't go wrong with!
【新製品】ロジクール SIGNATURE K855 ワイヤレス メカニカル キーボード テンキーレス 赤軸 リニア Logi Bolt Bluetooth Unifying非対応 無線 K855GR K855OW K855RO K855BG 国内正規品 2年間無償保証