Comment
Entry-level mechanical keyboard from Lofree
The arched sides and unique slope make the number line feel closer.
Hot-swappable
Various color options available
Keyswitches vary from model to model
Keycap shape is based on SA, but the unique spherical surface finish makes it easy to fit the finger.
Supports three types of connection methods: BT5.0/2.4GHz / wired connection
Click here to purchase ▷▷▷.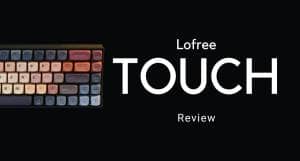 This site has partnered with Lofree, and we encourage you to use the coupon code below to receive a 10% discount on the price of the product.
Coupon Code: ryo10
このキーボードのキー配列・サイズは【US】【 65% 】です。
Types of Keychron and how to choose ▷▷▷
仕様詳細

Mode: Bluetooth 5.0 / Type-C / 2.4G Wireless
Dimension: 310 x 109 x 51.5 mm
Keyboard Weight: 720g
Keycap: Dye-Sub PBT
Features 68-key layout
Pre-installed Gateron G Pro (Red) Switch
Hot-Swappable: Yes, Standard 3pin and 5pin
NKRO: Yes
Baterry: 3 x AAA Battery
Typing Time: 30 Days
Support Windows, MacOS/iOS and Android

Information reference: https: //www.lofree.co/products/lofree-touch-triple-mode-mechanical-keyboard-grey