Comment
Multiple layers of built-in silicone pads provide superb typing sound.
Choice of two-tone see-through palm rests
Pop and stylish coloring
Easy to use with independent directional keys
Double-shot PBT keycaps and sound-absorbing design for the best keystroke feel to say the least → See this video for actual keystroke sound (taken by the author)
Our recommended keyswitch is the new Gateron Baby Kangaroo Switches with short strokes and a comfortable tactile feel!
Click here for other normal profile mechanical keyboards
このキーボードのキー配列・サイズは【US】【 65% 】です。
Happy 10% OFF Coupon : [ ryo10 ].
---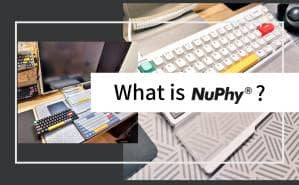 仕様詳細

Package Contents

1 x halo65 wireless mechanical keyboard
1 x usb-c to usb-a cable (1.5 m)
1 x 2.4g receiver
1 x Key Cap/Switch Puller
17 x spare keycaps
7 x spare switches
1 x Quick Guide/Poster
1 x Sticker

Technical Specifications

Switch type: night breeze/rose glacier/bbk/bbr/g-pro 2.0
Layout: ANSI 65
Number of keys: 67 keys
Hot-swappable/n-key rollover support
Backlight and sidelight: RGB-LED
Backlight mode: 10
Sidelight mode: 4
Halo light mode: 4
Mode: 2.4G wireless, Bluetooth 5.0 or wired
Battery capacity: 4000mAh
Operating time (all lights on): up to 48 hours (lab test results)
Operating time (all lights off): up to 240 hours (lab test results)
Connection type: USB type C
Supported systems: macos/windows/android/ios
Angle: 5.5°/ 8.5°/ 11
Operating environment: -10 to 50°C
Frame : Aluminum
Bottom case: abs
Keycap: double shot pbt
Size: 318.1 mm x 114.4 mm x 37.5 mm
Weight; 1000g

Information reference: https: //nuphy.com/collections/keyboards/products/halo65
Click here for a list of coupon codes ▷▷▷
Find a keyboard layout you like.
Selectable axis types
Gateron Mechanical Switches
Red Switches


G Pro

Blue Switches


G Pro

Brown Switches


G Pro
Baby Kangaroo
pressing pressure
45±15 gf
60±15 gf
55±15 gf
59±8 gf
Movement to operation
2±0.6 mm
2.3±0.6 mm
2±0.6 mm
2.0±0.5 mm
keystroke
4±0.6 mm
4±0.6 mm
4±0.6 mm
3.4 mm
reaction
linear
clicky
tactile
tactile
sound
quiet
clicky
gentle
gentle