NuPhy Halo65 is a 65% layout mechanical keyboard released by NuPhy, an up-and-coming keyboard brand based in Shenzhen, China.
In recent years, keyboards with a gasket construction and full aluminum body for superior key feel have become mainstream, but they are still somewhat expensive, which is a bit disappointing.
In this regard, NuPhy keyboards offer a very good typing experience despite their relatively low cost and lack of gasket construction.
In addition, its pop and unique look is outstanding and makes it stand out from the crowd.
This article will provide a detailed review of the attractions and disadvantages of the NuPhy Halo 65, which is actually used by the author.
Other Air Series ( low-profile mechanical keyboards)
Halo Series ( normal profile mechanical keyboard)
Halo65|Halo65 review article

Representative of GreenEchoes Studio
He launched his own media as a site operator and web writer, and now plans and manages multiple corporate media. He often types heavily in his work, and in his search for greater efficiency, he became addicted to the keyboard swamp and established "GreenKeys".
メリット
複数層のシリコン吸音パッドにより打鍵音が優れている
キーキャップがおしゃれでかっこいい
方向キーが独立しているため操作性に優れている
デメリット
海外公式からの個人輸入では技適未取得のため無線接続ができない
やや重量があるため持ち運びには不便
ファンクションキーがないためコンビネーションタイピングが必要
Click here for a list of coupon codes ▷▷▷
Find a keyboard layout you like.
See NuPhy Halo 65 in video and images
First, let's take a look at the look of Halo65, with video and images.
Check typing sound
Review of the appeal of NuPhy Halo 65
Now that we have checked the exterior, let's take a look at the actual device review.
The three main attractions of Halo65 in my opinion are as follows.
Looks pop-cute!
Very good keystroke sound and feel
Lighting is fantastic.
Looks pop-cute!
After all, Halo65's most outstanding appeal is its pretty looks.
The Iconic White, in particular, is a white coloring that is easily welcomed by Mac users, and the green, yellow, and orange keytops are very nice accents.
Replacement keycaps are of course included, so you can use just the plain white keytops if you prefer.
As for matte black, on the other hand, the aluminum frame is colored black, giving it a very tight finish.
The matte black also comes with replacement keytops as well, but note that they cannot be "unified in a single color" like the iconic white.
Kawamura
However, monotone configurations are possible.
Very good keystroke sound and feel
Another attractive feature of Halo65 is that it has a very good typing sound and feel.
Although gasketed keyboards nowadays offer a great typing experience, they are still controversial due to cost and the fact that many users feel the entire keyboard flexes when typing.
In this respect, Halo65 has succeeded in improving the typing experience by using more silicone without deflection.
The structure is as follows
Halo65's multiple silicon structure
bottom plate
Bottom Silicone Pad-①
PCB
PCB Silicon – (2)
plate (often as in "tectonic plate")
Plate silicon – (3)
It is a three-layered structure.
This gives the illusion that it can absorb all kinds of shocks.
The keycaps used are, of course, double-shot PBT, contributing to the tight keystroke sound.
As for the space bar, the "GhostBar," which is processed to be quiet, is adopted as standard, and is surprisingly quiet in synergy with the silicone plate on the bottom.
In addition to the Gateron G Pro 2.0 (Red / Brown), there are two NuPhy original key switches and two new Gateron switches to choose from, for a total of six types of key switches.
Gateron × NuPhy KeySwiches
| | Switch Type | Operating Force | Total Travel | Keystroke |
| --- | --- | --- | --- | --- |
| Night Breeze | Linier | 42±5gf | 3.3±0.3mm | soft low tone |
| Rose Glacier | Tactile | 60±5gf | 3.3±0.3mm | soft low tone |
| Gateron Baby Raccoon | Linier | 55±8gf | 3.6±0.2mm | soprano |
| Gateron Baby Kangaroo | Tactile | 59.8±8gf | 3.4mmMax | soprano |
Kawamura
I chose Baby Kangaroo.
I like the early bump and short strokes very much, and the thumping sound is almost habit-forming.
As for the other keyswitches, Rose Gracier is slightly harder than BBK, BBR has a feel similar to yellow keys, and Night Breeeze has an elegant red keyswitch with a short stroke.
For a comparison video of keystroke sounds, please also see the one we made for you!
Lighting is fantastic.
In fact, "Halo" used in the product name seems to mean "band of light".
Yes, the main feature of the lighting on the Halo65 is not limited to the typical backlit lighting, but the main feature is a band of light around the keyboard.
This leaked light works very well with the Twotone Wrist Rest, which can be purchased at the same time, and the light passing through the acrylic wrist rest is very fantastic.
Cautions to keep in mind before purchasing NuPhy Halo 65
By reading this far, you have probably realized that Halo65 is very attractive.
But wait a minute.
Please take a look at three things to check before you buy Halo65.
Not popular with the general public due to lack of function keys
Not practical to carry as it is reasonably heavy
For purchases from official overseas websites, use in Japan is by wired connection only, with the exception of special cases, due to the acquisition of a technical qualification certificate.
Scratches are easily visible on ivory white
Not popular with the general public due to lack of function keys
Halo65 has no function keys.
Therefore, to press the F key, the combination "Fn" + "numeric key" must be entered.
Probably, for English-speaking people who do not have "character conversion work", the frequency of function key use is not that high in the "act of typing".
The problem is when typing in Japanese.
When inputting Japanese, the behavior differs slightly depending on the operating system, but in most cases, if you are using Windows, press "F7" for Kana conversion, or "F8" to convert to half-width Kana.
In many cases, such typing is already ingrained as a habit of the hand, and learning new combination typing can be a major switching cost.
If this is a concern for you, you may want to choose the Halo 75, which has function keys.
Kawamura
By the way, I use the 65% keyboard and the main keyboard, and I use the show cut keys instead of the function keys because I type the same way on different keyboards.
By the way, Kana conversion is CTRL+I in Windows.
Not practical to carry as it is reasonably heavy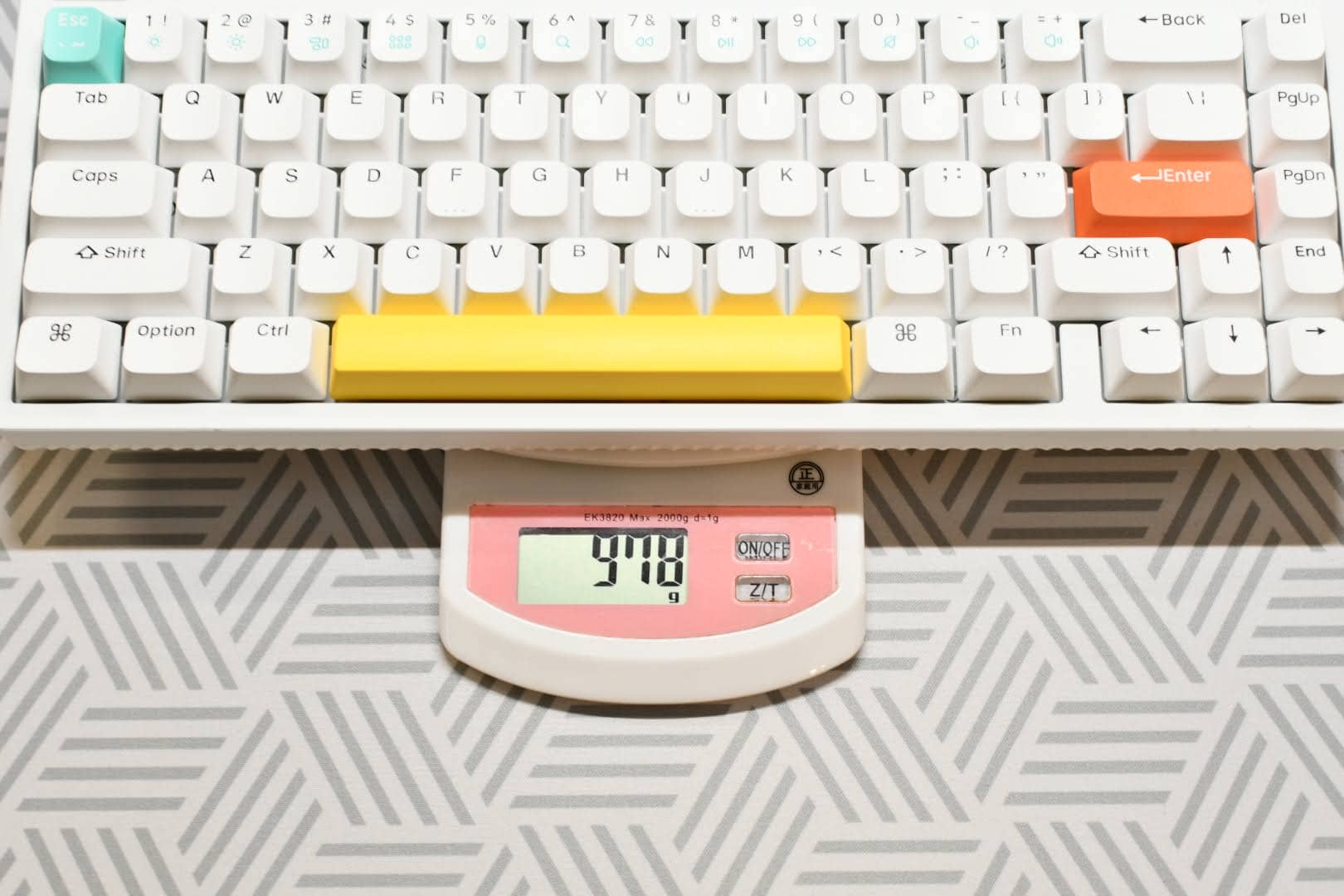 i want my favorite keyboard at home and at work! and some of you may be thinking about taking Halo65 with you.
As you can see in the image, Halo65 is a heavyweight, weighing approximately 1 kg, so it is not at all suitable for carrying around.
It is better for home use applications.
If you are thinking of portable use, please consider Air60,Keychron K7, orHHKB.
If purchased from an overseas official website, use in Japan is by wired connection only, with the exception of special cases, as technical conformity has not been obtained.
If you purchase from NuPhy's official website, the product is not certified for technical compliance in Japan.
Therefore, although wireless connection is available as a specification, it is prohibited under Japanese law because it has not obtained "technical standards conformity certification" (commonly known as "technical compliance") for use of wireless products in Japan.
In the meantime, the system supports Bluetooth 5.0 and 2-line connection using a USB receiver, but neither is available.
For experimental use, notification to the Ministry of Internal Affairs and Communications allows use for 180 days, but after that, use is prohibited, so in reality, under Japanese law, wireless functions cannot be used in Japan.
Kawamura
This blog is simultaneously translated and distributed to English speakers and Traditional Chinese speakers.
Use of wireless devices must be in accordance with the laws of the country in which they are used.
For those in Japan, please refer to Mr. Domae of IIJ's blog for a detailed description of the use of products without a technical compliance mark.
In Japan, Sanyo Godo Kaisha, NuPhy's authorized distributor in Japan, sells products with technical certification at its official online store.
However, it is a bit expensive, as it is priced at $119.95 (about 16,000 yen at 130 yen to the dollar) on the official website, while the model sold in Japan is priced at 21,780 yen (including tax).
If you use the coupon code on this site, you can get 10% off the selling price, making it less expensive to get the product from the official site, even if you factor in shipping costs.
If you do not need a wireless connection, you can get a better price from the official website.
Scratches are easily visible on ivory white
If you choose white instead of black, you are vulnerable.
The sides of the unit can be taken care of, but when replacing the keyswitch, it will be difficult to avoid scratches.
Although the keycaps make them invisible, the fact that they are easily scratched is a disadvantage.
This would be true for the other Halo series as well.
NuPhy Halo 65 Instruction Manual (Manual)
Halo65 manuals are not distributed online.
Please see the following textualized version of the instruction manual for the Halo 65 that we own.
NuPhy®︎ Halo65の取扱説明書(マニュアル)

接続方法の選択

Switch right: power off
Switch center: Wired mode
Switch left|Wireless mode

ワイヤレス接続方法

= Bluetooth1 / Bluetooth2 / Bluetooth2/ 2.4GHz (receiver connection)

Each device channel can be switched by pressing the above key briefly.

Press and hold the above command for at least 3 seconds to enter pairing mode.

To make a connection in the 2.4 GHz band, insert the receiver into the USB port.

ファンクションキーとマルチメディアキーを切り替える

For Mac

FN +/- 1 2 3 1 / 2 / 3 …: Operates as a multimedia function key. (Default)

FN + X + … F FN +1 / 2 / 3 function as F1 / F2 / F3 … keys, respectively, instead of the multimedia function keys. (Switching between function keys and multimedia keys)

For Windows

FN +/- 1 2 3 1 / 2 / 3 …: Works as F1 / F2 / F3 (Default)

FN + X + F FN +1 / 2 / 3 function as multimedia function keys instead of function keys, respectively. (Switching between function keys and multimedia keys)
Frequently asked questions about NuPhy Halo 65
Here are some frequently asked questions about NuPhy Halo 65.
Is NuPhy Halo 65 available in Japan?
NuPhy Halo 65は日本国内で購入できますか?

In Japan, it is now possible to purchase products compliant with the technical standards at the official online store of Sanyo Godo Kaisha.

However, it is more expensive than the official site and should be considered by those who do not need a wireless connection.

Even though this is a personal import, the shipping itself is handled by NuPhy, so there is no need for the customer to follow any special procedures.
I am concerned about purchasing NuPhy Halo 65 through a private importer. Will my credit card information be compromised?
NuPhy Halo 65を個人輸入で購入するのが不安です。クレジットカード情報の流出はありませんか?

Probably not, but not completely.

If you are not comfortable with credit card payment, try PayPal payment.

With PayPal, PayPal settles payments using credit cards registered with PayPal, and in addition to robust security, there is also a "buyer's compensation system," so you can use international shopping with peace of mind.

Other payment methods such as Google Pay and Apple Pay are also available.

List of supported payment methods

American Express
Diners Club
Discover
master
VISA
PayPal
Apple Pay
Google Pay
Shop Pay
Meta Pay
Venmo
What is the battery life of the Halo65?
Halo65のバッテリー駆動時間はどれくらいですか?

The battery capacity is 4000 mAh and can run for 48 hours continuously when the light is on and 240 hours continuously when the light is off.
What are the specs for Halo65?
Halo65のスペックを教えてください。

The following are detailed specifications.

Package Contents

1 x halo65 wireless mechanical keyboard
1 x usb-c to usb-a cable (1.5 m)
1 x 2.4g receiver
1 x Key Cap/Switch Puller
17 x spare keycaps
7 x spare switches
1 x Quick Guide/Poster
1 x Sticker

Technical Specifications

Switch type: night breeze/rose glacier/bbk/bbr/g-pro 2.0
Layout: ANSI 65
Number of keys: 67 keys
Hot-swappable/n-key rollover support
Backlight and sidelight: RGB-LED
Backlight mode: 10
Sidelight mode: 4
Halo light mode: 4
Mode: 2.4G wireless, Bluetooth 5.0 or wired
Battery capacity: 4000mAh
Operating time (all lights on): up to 48 hours (lab test results)
Operating time (all lights off): up to 240 hours (lab test results)
Connection type: USB type C
Supported systems: macos/windows/android/ios
Angle: 5.5°/ 8.5°/ 11
Operating environment: -10 to 50°C
Frame : Aluminum
Bottom case: abs
Keycap: double shot pbt
Size: 318.1 mm x 114.4 mm x 37.5 mm
Weight; 1000g

Information reference: https: //nuphy.com/collections/keyboards/products/halo65
Is Halo65 compatible with common Cherry MX profile compatible replacement keycaps?
Halo65は一般的なCherry MXプロファイル対応の交換用キーキャップとの互換性はありますか?

Halo65 uses Cherry MX compatible switches, so Cherry MX compatible keycaps can be used without any problem. However, depending on the shape of the keycap used, it may not work properly, so please use at your own risk.
What is the difference between NuPhy Halo 65 and NuPhy Halo 75?
NuPhy Halo 65とNuPhy Halo 75の違いは何ですか?

The main thing is the presence or absence of a top line (with or without function keys).

The following is a relative table for your reference.

| | Halo65 | Halo75 |
| --- | --- | --- |
| function key | nashi (Pyrus pyrifolia, esp. var. culta) | ant |
| Size | 318.1mm x 114 .4mm x 37. 5mm | 319.5 mm x 134 mm x 38 mm |
| weight | Approx. 1000g | Approx. 1180g |
summary
This is all I have to tell you about the Halo65 review.
After all, a 65% layout is certainly a layout that is somewhat uncommon among Japanese.
As for those who prefer to have function keys, we recommend Halo75.
As for people in English-speaking countries and other foreign countries, we believe that the function keys are of low use, so we would recommend the more compact Halo65.
You too can try a new typing experience with NuPhy's Halo series.