On February 25, 2023, Keychron updated its official Twitter page to announce the Keychron Q11, the company's first left-right split keyboard.
(According to the official Twitter, it is "March 7th 8 a.m.(ET)", which is calculated to be 14 hours later than Japan in Eastern Standard Time.)
The Keychron Q11 The release of Keychron Q11 was scheduled for February 28, 2023, but was delayed due to inventory delays. The launch has been delayed due to inventory delays.
In addition, the official announcement states that the product will be shipped within two business days of ordering, but as for the author, who purchased the product on the day of release, it was delivered on the evening of March 17.
Prices are as follows
$185.00 (Barebone Knob)
$205.00 (Fully Assembled Knob)
As for left-right split keyboards, I have the impression that there are many core fans in Japan, especially enthusiasts in the home-built keyboard community.
Keychron's offensive does not tend to stay in 2023, as it is about to attack the "left-right split," which is a niche genre in the world, and also the launch of the "southpaw style" shown in the Q12.
Information reference: https: //www.keychron.com/products/keychron-q11-qmk-custom-mechanical-keyboard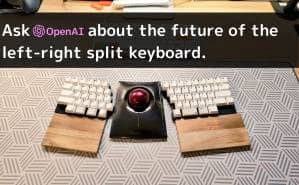 Representative of GreenEchoes Studio
He launched his own media as a site operator and web writer, and now plans and manages multiple corporate media. He often types heavily in his work, and in his search for greater efficiency, he became addicted to the keyboard swamp and established "GreenKeys".
メリット
左右分割でも一体型としても利用できる
特殊キー配列ではないためスイッチングコストが低い
フルアルミニウムボディを採用しており堅牢性が高い
金属ボディのために硬質でコトコトとした打鍵音が心地いい
デメリット
吸音機構が不十分のため、従来のQシリーズのような打鍵感からはちょっと遠い
ホットスワップソケットの精度が左右で若干異なる
モディファイキーの交換用キーキャップが少ない
「6」が左側にあって不自然
サイズが大きく、65%レイアウトの方が個人的には好き
Click here for a list of coupon codes ▷▷▷
Find a keyboard layout you like.
More about Keychron Q11
Enjoy this split design with a 75% layout! Our Keychron Q11 will be available on Tuesday, 3 days left. #mechanicalkeyboard #KeychronQ11 #splitkeyboard pic.twitter.com/Nx2fYB3Jrg

– Keychron (@KeychronMK) February 25, 2023
A summary of Keychron Q11 is as follows
Selectable types
Fully Assembled Knob ($205.00)
Barebone Knob: $185.00

No selection at this time (

sold out or out of stock)
Selectable coloring
Carbon Black – A (center keys in blue, peripheral keys in black)
Carbon Black – B (black center key, blue peripheral keys)
Selectable switches
Gateron G Pro Red
Gateron G Pro Brown
Let's take a look at the details from the image.
Rotary knobs are mounted on the upper left and right ends.
Five modifier keys present in one column on the left side
Space bar is split left/right, 2.25u left/2.5u right?
The "B" is only on the left.
Typical split keyboard has "6" on the right side but placed on the left side
The length of the cable connecting the left and right sides is probably about 20 cm
The cable connecting the left and right sides may be a dedicated terminal or USB Type-C, not TRRS.
OS switch on the upper left rear edge
Keycap for OSA profile
Priced at $185.00 (Barebone Knob)-$205.00 (Fully Assembled Knob)
Supports keymap customization
Silicon foam + CNC aluminum alloy for high quietness
Feature 1. Can be used either as a left-right split or as only one of the two.
The most distinctive feature of this machine is that it can be used by dividing the left and right sides of the unit.
Since only the left or right half of the keyboard can be used, it can also be used as a gaming keyboard.
It may also be used as a macro device.
Since they are one piece, they can of course be attached to each other and used like Keychron Q1.
Feature 2. High quality and quietness
Also of note is the quietness of the unit due to the full aluminum body and the use of sound-absorbing materials.
It is no exaggeration to say that this machine, which undergoes 24 manufacturing processes, has reached the level of a work of art.
Kawamura
It seems that the double gasket structure could not be mounted this time because of the split specification.
Feature 3. Keycaps adopt Keychron's original OSA profile
The included keycaps are double-shot PBT with OSA profile.
The OSA profile has become the profile that Keychron has been actively adopting recently, with keycaps that are rounded and sloped with angular corners like SA and MA.
It is strange that rounded corners make it look a little softer.
Feature 4. Supported OS can be switched between Mac and Windows with a switch
The supported OS is Mac/Windows, and it can be switched by a switch on the rear panel, making it possible to switch between different layers even if they are set up in different layers.
Feature 5. Two programmable rotary encoders
The Q11 has rotary encoder knobs on the upper right and left sides of the keyboard, respectively, which can be used more creatively by memorizing designated operations.
For reference, here are my settings for a macro pad with rotary encoder.
Click here for a key map of the handsome cannonball.
I have planted the gesture commands and screen split commands that are commonly used on the Mac. Also, horizontal scrolling in Excel, text cursor operations, etc. pic.twitter.com/W3xs0zUsAx

– Ryosuke Kawamura|Green Echoes Studio (@Hottyhottea) March 2, 2023
Feature 6. Customizable key map
Q11 is QMK/VIA compatible and can be changed to the keymap of your choice.
QMK/VIA is also an open source keymap editor, which is very versatile and easy to use compared to the original keymap modification software.
Feature 7. Hot-swappable and changeable keyswitches
The Q11's keyswitch is not soldered to the PCB base, but rather plugged in, so it can be replaced with a keyswitch of your choice.
The default installation, the Gateron G Pro series, is very good, but you will be able to try even more different keyswitches.
Kawamura
My latest addiction is silent switches.
I prefer Gateron CJ and Oilking.
Keychron Q11 keystroke sound comparison
Let's take a look at the Keychron Q11's keystroke sound.
Unlike the regular Q series, there is less sound absorption mechanism such as gasket structure, but the hard typing sound unique to the Q series is still apparent.
Please see this page as we have tried and seen the sound of several other keyswitches besides the existing Gateron Red.
Actual images of Keychron Q11
The following is a picture of the actual Q11.
Of particular concern is probably the area around the connection terminals.
Thus, the connection between the left and right sides is made using a USB Type-C cable.
Many products use TRRS cables, but this was distinctly different.
As you can see from the body, it is very thin.
It is about as high as a palm rest for low-profile applications, so if you are going to buy one, it should be about 10 mm thick.
Will the Keychron Q11 pioneer the split keyboard?
This is a brief introduction to Keychron Q11.
This article was prepared prior to the launch of Q11 and was added after the purchase.
In the selling price of keyboards, the material of the case is the most important factor that causes the cost to rise.
This price using CNC aluminum alloy, which is probably the most expensive per unit, is something that no Japanese company or individual would be able to compete with.
流石にスイッチキーキャップ付きで$205には対抗できないですね😂 https://t.co/O0sK5UTWoS

— サリチル酸⌨️自キ温泉ガイド (@Salicylic_acid3) March 7, 2023
Kawamura
個人的には多少高くとも、プロダクトの魅力次第で買います。
正直なところ、左右分割キーボードのシェアがどれくらいなのかはわかりません。
When we asked the recently trendy AI, we got the answer that "left-right split keyboards are popular in Japan," but they are not yet in general use.
In fact, the author is one of those who use a left-right split keyboard, and I think it contributes to the improvement of shoulder stiffness because it allows typing with open hands.
On the other hand, switching costs are somewhat higher because it takes time to get used to the system.
The old-timers Mistel Barocco and Kinesis Freestyle are popular products, but they have been overshadowed by the others.
With the release of the left-right split keyboard by Keychron, which is arguably the most powerful company in the world today, will it become more popular around the world?
Attention.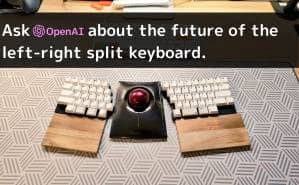 This site introduces information about keyboards and has a keyboard database.