With the release of Keychron Q11, the "split keyboard" genre is quickly gaining attention.
Although this is a super niche area, it actually has some major advantages, such as increased work efficiency.
On the other hand, there are of course disadvantages to be aware of when introducing the system.
This article will explain the advantages and disadvantages of split keyboards and introduce you to the different types of split keyboards, so please read on until the end!
What is a split keyboard?
A split keyboard refers to a keyboard that is divided in two in the center.
Normally, keyboards used for typing are either integrated or divided into left and right "Alice layouts," but as for the split keyboard, it is made up of completely separate left and right parts.
Since it can be divided into left and right sections, there are possible advantages such as placing a trackball mouse or trackpad in the center or reducing fatigue by allowing typing in a comfortable posture.
Conclusion: Split keyboards can be recommended.
To begin with, let me conclude. We can highly recommend the split keyboard.
While there are certainly disadvantages, as discussed below, and the cost of switching from existing keyboards is significant, the benefits gained by doing so are probably greater.
In particular, the possibility of reducing shoulder stiffness and other symptoms is quite good news for desk workers.
The correct fingering will also improve the speed of work.
The challenge is still "getting used to it," but if it is a split keyboard with a normal layout, there are ways to reduce the discomfort by gradually releasing the keyboard.
Please give it a try.
As for the dedicated palm rests, they are available from FILCO.
Disadvantages of a split keyboard
The first thing to understand when introducing a left-right split keyboard is the disadvantages.
We are sure that many of you will consider switching costs to be significant, so we will check here first.
High switching costs and requires familiarity
After all, as anyone would think. As for left-right split keyboards, there is a significant switching cost involved.
It is probably due to fingering.
Most ordinary people would have taught themselves typing skills.
If you have developed such a unique typing method, we recommend that you review your own typing skills before using a split keyboard.
The image here is from " Chibi Musu Drill Elementary School Students".
These days, elementary school students are learning this kind of typing…!
Yes, it is first of all impossible to type blindly on a split keyboard if this is not grasped.
In particular, people who are typing by batting their index finger coverage left and right will have a very difficult time.
High price
This is not limited to left-right split keyboards, but these custom mechanical keyboards are more expensive than regular pantograph or membrane keyboards.
The Keychron Q11, which is probably the standard model in the split keyboard area, is priced at $205.00, or about 26,000 Japanese yen.
These circumstances have made the hurdle of introduction quite high.
However, the ability to type stress-free has the potential to be a major benefit, not only in speeding up work, but also in reducing fatigue.
Considering this, there is surely no harm in introducing it.
Advantages of a split keyboard
The advantages of using a split keyboard include the following
May reduce fatigue.
The left-right split keyboard can be placed in any position that does not put a burden on the shoulders and wrists, and is expected to reduce the burden on the hands, arms, and shoulders.
This is a very good option for those who type for long hours and suffer from stiff shoulders.
However, there is no evidence of recovery or reduction of fatigue, so we hope that this is just one of the possibilities.
Improves typing accuracy
A left-right split keyboard may improve typing accuracy.
Conversely, if the home position is not accurately established, it is impossible to hit at all.
As a result of clarifying in your own mind which finger is to be pressed on which key, using a left-right split keyboard will refine this and improve typing accuracy.
Greater flexibility in layout
The left-right split keyboard creates free space in the center.
Placing a trackball mouse, trackpad, or macro pad in this space has the advantage of allowing the hands to move as little distance as possible and with an equal burden on each side.
How to connect a split keyboard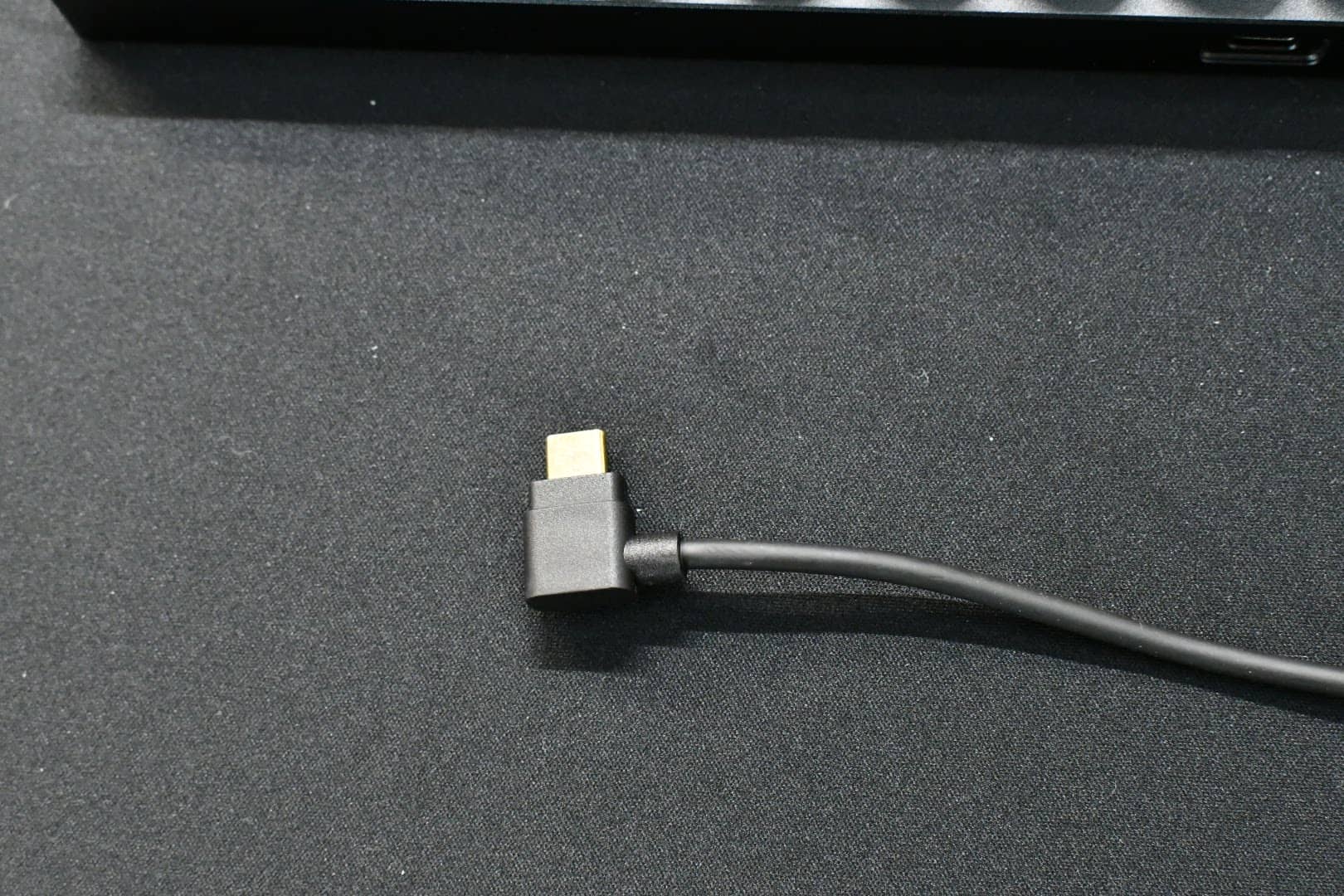 The connection method between the split keyboard and the computer itself is basically a wired connection.
For the left and right keyboards, 3-pole (TRS cable) or 4-pole (TRRS cable) terminals used as audio cables are used.
As mentioned above, the Keychron Q11 and Majestouch Xacro M10SP may be like using a USB Type-C cable.
Some models can be connected wirelessly, but the connection itself can be unstable, so this site recommends a wired connection.
Split keyboard layout
We believe that there are three main types of split keyboard layouts.
Lowe Staggered
The so-called "rowstaggered" keyboard layout is the one we see all the time.
The original origin seems to be attributed to the structure of the typewriter, and no particular importance was attached to its functionality.
However, since they have been used for many years, this has become the standard.
Row" refers to "row" and is characterized by an array of rows offset horizontally.
The word "staggered" means zigzag, alternating, or even.
authorolinear
The term "ortholinear" means "lattice-like.
They are neatly arranged in a row like a grid.
It seems to make sense because the distance the finger travels when placed in the home position is the shortest, but it does not work well when actually typing, and I have the impression that it takes a lot of getting used to.
column staggered tiles
Column staggered is an arrangement that is vertically shifted to match the length of the fingers.
As an arrangement, it is close to the orthorectified arrangement, but because it is shifted to "column = vertical column," it is a more ergonomically rational arrangement.
This is the culmination of the left-right split keyboard, but it takes some getting used to before you can use it.
Left-right split keyboard [commercially available].
Many of the keyboards in this neighborhood are so-called "jiki" (self-made keyboards), and mass-produced products are quite rare.
Since a self-made keyboard is quite a hurdle to overcome out of the blue, let us start with commercially available products.
FILCO Majestouch Xacro M10SP
The Majestouch Xacro M10SP, sold by Diatech Corporation under the FILCO brand, is a very rare split keyboard from a domestic manufacturer, released on October 26, 2023.
On the official website, the keyboard is described as a 70% layout with macro keys in the center, but in its basic form, it should be considered as a 60% layout keyboard with the arrow keys eliminated.
The photo shows the Japanese layout, but an English layout is also available and uses Cherry key switches.
Another great feature of the lineup is that there are four types of key switches and two types of arrays to choose from, for a total of eight types.
It can also be used as an integrated keyboard, as shown in the photo, allowing those who are not comfortable talking to it to use it.
However, it is not very flexible when it comes to changing the keymap, especially since the default layer's arrow keys are placed in "ESDF" or "IJKL" while holding down Shift, which can be quite uncomfortable for those accustomed to using a typical 60% keyboard.
The supported OS is also listed as Windows only, and the dedicated software is also compatible only with Windows.
This can be recommended especially for those who do not customize the keymap and do not feel uncomfortable with the position of the arrow keys.
Mistel Barocco Series
The Barocco series is probably the most famous split keyboard distributed in Japan.
Ltd. serves as the distributor, making it easy to purchase the product in Japan.
Japanese-language models are also available, and the lineup includes a 65% layout with no function keys, which is popular with professionals.
The supported OS is Windows /Mac, and it seems that it should be considered almost Windows-compatible.
It is possible to change the keymap, but the change is not made by software, but by hardware operation, which gives the impression of difficulty.
If you are not going to change the keymap, this is a good choice as an introductory product.
Kinesis
Kinesis is easily available in Japan, with Ergonomics Japan Inc. serving as the domestic distributor.
Unlike the Mistel mentioned earlier, this type is not an integrated type.
It features a hotkey on the left side, and it seems that macros can be set only in this area.
Supported OS are Windows/Mac.
It does not support keymap changes, so it is not recommended for those who want to tinker with it.
Keychron Q11
The Keychron Q11 is a new twist on the split keyboard.
It looks as if the popular Q1 model has been split in half, and can be used as a regular keyboard if you don't like it, since it can be snugly attached to the Q1.
The heavy body made of CNC aluminum alloy will give you the best key feel.
In addition to changing the keymap, the key switch can be replaced with a key switch of your choice.
In particular, keymap changes are supported by QMK, an open-source keymap modification software, and all key arrangements can be changed by using an application called VIA.
Of course, macros can be easily set up.
If you want to actively change the keymap, this is a good choice. (It's expensive, though.)
YMDK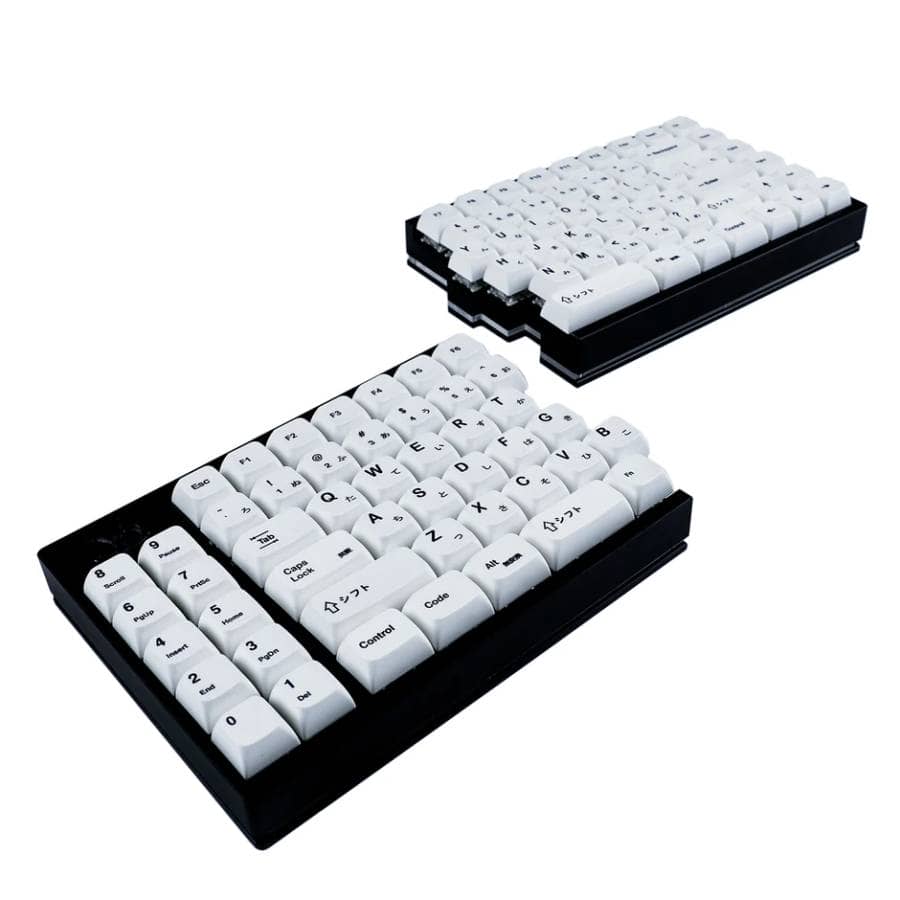 YMDK is another keyboard brand that releases numerous custom keyboards.
YMDK offers split keyboards with 65% and 75% layouts, respectively.
The price is lower than that of the Keychron, making it a very cost-effective product for its aluminum alloy body.
However, it is quite possible that the keymap change software may be difficult to use because it is proprietary.
ErgoDox
The ErgoDox, released by Canada-based ZSA Technology Labs, is a split keyboard with a tangled staggered arrangement.
Noteworthy would be the short right hand side and the large number of keys placed on the thumb.
The normal layout is asymmetrical, with more keys on the right hand side, with three keys after P.
On the other hand, this unit has only one row of keys after P, so it is necessary to relocate the other keys to a different part of the unit.
Moonlander
Moonlander, like ErgoDox, is a product released by ZSA Technology Labs, based in Canada.
It has the look of a survey plane surveying on the moon, quite cyber beautiful….
This one has even fewer keys than ErgoDox.
Dygma

Dygma is a manufacturer that mainly releases gaming keyboards.
As shown in the photo, the unusual point is that many keys are placed on the thumb of the normal US layout.
In addition to this, we are also releasing keyboards with column-staggered layouts.
Cloud Nine ErgoTKL
The pure 75% layout keyboard is split style, with the volume controller knob on the left side.
Also unusual in this area is the ability to set negative tilt (sloping toward the other side of the key).
MOERGO Glove80 Wireless Split Contoured Keyboard
Glove80 is a three-dimensionally shaped column-staggered split keyboard.
I don't know what the mechanism is, but all I can say is wow (vocabulary).
GraBShell
Here is a keyboard called GraBShell that I recently saw in PRTIMES.
In addition to being able to type in segments, the device has a somewhat unusual mechanism that allows typing with the back of the device held in addition to using it as a game controller by holding it.
Once you are proficient in blind touch, you may even be able to type in your sleep.
This is pretty much blown out of the water.
Naya Create
Personally, I want this NAYA the most.
Unfortunately, it is a column staggered, which I am not a fan of, but the part operated by the thumb is modular and can be changed at will.
This would allow me to complete even mouse operations without moving my hand from the keyboard.
However, because it is so thin, we are a little concerned about the keystroke feel.
Ultimate Hacking Keyboard
Like NAYA, this seemingly standard-looking UHK can also be equipped with modular parts in the thumb area.
Some people seem to use it in Japan, and we sometimes see it on Mercari and other places.
The fact that it is a 60% array, rather than a 65% array, gives the impression that it will be preferred by those whose work involves typing codes and the like.
Left-right split recommended keyboard [Homemade keyboard].
Now, the real real deal is probably here.
In fact, I have the impression that there are many amateur split keyboard designers in Japan who are active in the world.
(No confirmation of facts can be obtained. Sorry.)
In addition to the keyboards we are about to introduce, we have designed and sold numerous split keyboards.
Basically, as far as these home-made keyboards are concerned, most of them have a mechanism that allows you to change all keymaps on the GUI (software screen), so if you really want to be particular about your own keyboard, a home-made keyboard is the way to go.
Let us introduce you to them.
7sPlus
Perhaps the 7sPlus is the one with the lowest switching costs.
It has the same 75% layout as the Keychron Q11 and can be used as a regular keyboard when attached.
JISplit89
For those who find 7sPro difficult to use with US layout, JISplit89 is recommended.
It has a Japanese layout with a 75% layout and half/full-width keys, which will make the transition smooth for Windows users.
Also, the large number of key switches pressed with the thumb would allow for convenient customization.
7sPro
The 7sPro is the 60% happy array preferred by programmers.
Here, too, the position where the space bar is located is a keyswitch of different sizes, allowing for a variety of customization.
The directional keys are missing, but can be operated by holding down the Fn key on the far right and pressing the peripheral keys.
ErgoArrows
ErgoArrows, which is a column-staggered layout, features an inverted T layout like the directional keys.
Only that part is a low-profile key switch, which may also serve to prevent accidental operation by physically placing a step between the switches.
Keyball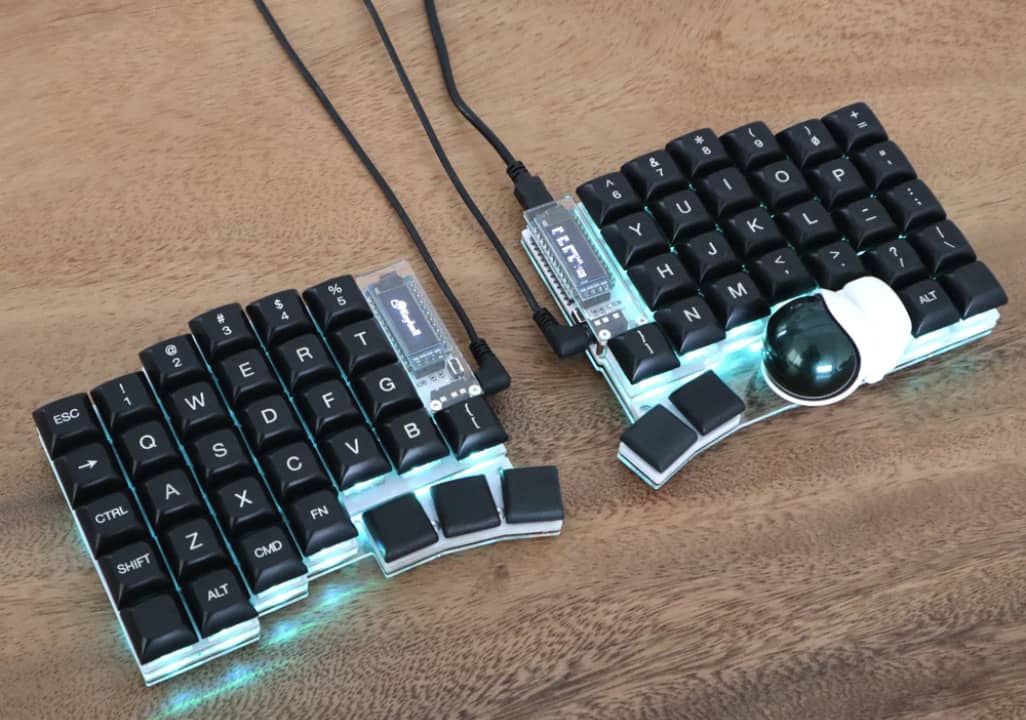 Keyboard designed by Yokisu, who runs a store specializing in keyboards in Hida Takayama, Gifu Prefecture.
(The actual store will remain open until March 13, 2023)
The best feature of this keyboard is that it comes with a trackball, and by setting certain keyswitches to mouse click, all computer operations can be completed without taking your hands off the keyboard, which is a dream come true.
However, in addition to being column-staggered, it also requires ingenuity to avoid pressing the trackball while typing, which gives the impression that it takes quite some time to get used to.
The image is Keyball61, but Keyball44/39 also exist.
mtk64e
This keyboard is designed and sold by mentako-ya.
In addition to the aforementioned Keyball, there are a great many thumb clusters, plus a rotary encoder in the left hand section.
Hot-swapping is also supported.
The exterior was created with a 3D printer and is very complete, but it is still a "prototype" and will be improved in the future.
It is sure to be a super useful device depending on the configuration, but the switching cost is very high and we are struggling a lot.
(The picture is my possession.)
If you are interested, please contact us.
Lily58 Pro
There are considerably fewer keys, but the look is very beautiful.
Lily58 seems to be world famous, and there is a model called " LuLu" with a special case attached to it.
Crone Cherry V3
It is a 40% layout-based keyboard, which is basically a fairly expert keyboard that requires most of the non-alphabetical keys to be combination typed.
It is now a work of art.
Maglit40
This 40% keyboard is marketed by Cerbekos-keyboard.
Personally, I use this the most with split keyboards.
It is a "home-made keyboard" with a 40% layout for experts, and its production requires assembly, including 3D printing of the case and soldering of the base, but once you get used to it, it is so attractive that you cannot get out of it.
Summary|Let's get into the charm of keyboards!
The above has explained the split keyboard.
Did you find a keyboard to your liking?
In fact, I believe that this "keyboard" is the one device in a computer that receives little attention.
Everyone is concerned only with the beauty of the display and specifications, and little attention is paid to the all-important input device.
Personally, I believe that changing keyboards can dramatically improve work efficiency.
Our website also has a searchable database of various keyboards, so why not find the one you are looking for?
Welcome to the world of keyboards.