On November 29, 2022, MelGeek®︎ Mojo68 appeared on the crowdfunding website Makuake.
Mojo68 is a 65% layout keyboard from MelGeek, a keyboard brand sold by UK-based shijie trading ltd.
Its retro and advanced looks have an appeal that has never been seen in keyboards before, and many users seem to be importing and purchasing them directly.
The Mojo68, which is now available at MacArque, has acquired technical qualification, so it can be used while complying with Japan's radio laws, which is a major advantage.
However, the regular price is 52,900 yen (tax included), which is more expensive than purchasing from the official website.
Perhaps this is unavoidable when including the acquisition of technical certification, the effect of the recent depreciation of the yen, and labor costs….
We recommend that you purchase at the early bird price.
View MelGeek Mojo68 on Makuake ▷▷▷
PS
As a result of the crowdfunding, the total number of applicants reached 81.
In addition, the number of applicants for the second crowdfunding project, which was conducted on machi-ya, was limited to 19.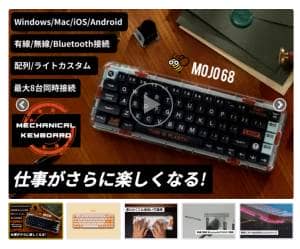 We still have the impression that price was a major bottleneck.
Too expensive! If you have decided not to purchase the wired model because you feel it is too expensive, please consider the wired model, which is available on the official website for less than 20,000 yen.
New colors are also available for selection on the official website.
The Mojo series is a bit difficult to select, as the available keyswitches are limited by the coloring, so please use the custom search function as well.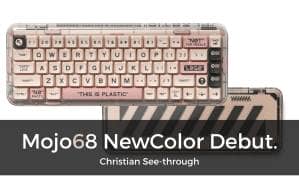 Representative of GreenEchoes Studio
He launched his own media as a site operator and web writer, and now plans and manages multiple corporate media. He often types heavily in his work, and in his search for greater efficiency, he became addicted to the keyboard swamp and established "GreenKeys".
Click here for a list of coupon codes ▷▷▷
Find a keyboard layout you like.
Answers to questions about selling price and keycap compatibility
In response to this crowdfunding, there were scattered opinions on some social networking sites that the price was too high and that changes should be possible regarding the keycap.
We contacted the distributor, HIGHER DAYS Corporation, regarding these matters, and have received answers, which are posted here.
(Permission granted. Text is verbatim.)
MelGeek公式サイトよりも販売価格が高額という指摘が見られましたが、高額となっている理由についてお聞かせください。

The price of our products in Japan is affected by various costs incurred in order for our customers to be able to purchase and use our products without any inconvenience, such as various certifications for sales and use in Japan, higher purchase prices due to the weak yen, continuously increasing logistics costs, customer support in Japanese and product warranty services. We hope you will understand that these costs have affected our pricing.

We hope that you will take advantage of this opportunity to purchase the product at a reasonable price before it goes on sale to the general public.

We will also do our best to provide services above and beyond the selling price as an authorized distributor after the start of general sales.

CherryMX規格のキーキャップを使用していれば、キーキャップの変更が可能なのではという指摘がありましたが、そちらについてご回答いただけますか?

Melgeek, the manufacturer, does not verify the height and feel of the keycaps using other brands' keycaps, nor does it design or produce the products, so we ask that you refrain from using keycaps made by other companies.
About MelGeek®︎ Mojo68
Here is a brief look at the features of Mojo68.
Technical compliance certification enables Bluetooth connectivity in Japan
I personally believe this is the most significant point.
In order to use a wireless connection product from outside Japan in Japan, it is necessary to obtain a "Technical Regulations Conformity Certification" (commonly known as "Gikitei") in accordance with the Radio Law.
In particular, keyboards directly imported from overseas by individuals have not yet acquired technical certification and are prohibited by law from being used for wireless connection in Japan.
Fans will be very happy to know that HIGHER DAYS Corporation, which has now become the distributor, has obtained the technical certification and is now officially able to provide wireless connectivity.
Of course, it is compatible with Windows, Mac, Linux, iOS, and Android operating systems, and there are three connection options to choose from: Type-C wired cable connection, wireless connection at 2.4Ghz, and Bluetooth 5.1.
Distinctive and stylish appearance
One of the main attractions of Mojo68 is its stylish appearance.
Available in five colors, the combination of the transparent case and slightly cybernetic key caps creates a futuristic feel.
Combined with the LED lights, it's a wonderful achievement.
Hot-swappable with uncompromisingly high quality key feel
One of Mojo68's selling points is its "good key feel.
A mechanical keyboard is a gadget that allows you to enjoy not only the feeling of typing, but also the "sound" produced when you press the keys.
Key feel and sound are not determined solely by the keyswitches used.
Since sound propagates, we believe that the body that receives the impact of pressing a keyswitch is an important factor in creating a high-quality keystroke feel and sound.
This model seems to produce a good keystroke sound by packing the PCB on which the keyswitch is mounted with silicon and Poron sheet to suppress excess noise.
As for the keyswitches, the Gateron G Pro 2.0 Brown/White and Kailh Custom Pro are available.
The keyswitches are also uniquely shaped and seem to have a key feel that sticks to the fingers.
Hot-swappable keyswitches are also supported, and Cherry profile keyswitches can be replaced with the one of your choice.
Supports key sequence remapping
One of the best things about mechanical keyboards is that you can change the key mapping yourself.
The ability to change the key mapping means that there are many possibilities, such as bringing the Control key to an area that is easy to press to improve work efficiency, or making it possible to perform actions such as copy and paste, which require a combination press, with a single key.
Most of these keyboards use software called QMK/VIA/Reamp to perform the remapping, but Mojo68 uses its own software.
Watch for future crowdfunding trends.
This is a brief overview of Mojo68, which was launched in McAke.
For more information, please visit the official Makuake website.
The distributor is also considering releasing a Japanese-language model of the Mojo68 in the future, which shows that they are very serious about this product.
However, to be honest, I was surprised at the "list price: 53,900 yen (tax included).
It costs about $229 ≒ 32,000 yen (including tax) for direct sales.
We also learned from our interviews with HIGHER DAYS Corporation that it is not only the acquisition of technical certification plus profit, but also the impact of the weak yen, labor costs, and other unseen costs that are unavoidable.
As for Melgeek's products, there are still other attractive products besides Mojo68, but it is also true that they are not sold in Japan, except that Talpkeyboard handles keycaps.
We sincerely hope that this crowdfunding will be the start of official sales of Melgeek.
Image reference and information reference: Makuake/Melgeek