Kopec Japan, the authorized distributor of Keychron in Japan, updated its Twitter feed on December 16, 2022, announcing that it has begun handling the Keychron K7 Japanese-language model (JIS).
The Keychron K7 wireless mechanical keyboard JIS model is now in stock! The model with RGB lights has Keychron optical switches, and you can also choose from banana, mint, and orange axes for a more personalized typing experience. The compact model is also portable! https://t.co/drndeoDXCG pic.twitter.com/YcBdzBuAnu

– KOPEK JAPAN (@KOPEK_JP) December 16, 2022
The Keychron K7 is available in a US array model on November 2, 2022.
Click here to listen to the keystroke sound.
Click here for a list of coupon codes ▷▷▷
Find a keyboard layout you like.
Fans' long-awaited Keychron K7 Japanese Array is now available in Japan! What are the points of interest?
Keychron K7 JIS believes that it will "catch on" in Japan.
There are three reasons for this.
No keyboard bridge is needed, even in the noble style
Japanese alignment is adopted.
65% array for easy portability.
Low-profile optical key switches for quiet and comfortable typing
No keyboard bridge is needed, even in the noble style
The image shows a Macbook Air M2 with a Keychron K7.
As you can see, when placed on top of a laptop computer with the tilt-leg out, it does not interfere with the existing keyboard and can be used without a keyboard bridge.
The fact that a keyboard bridge is not required is highly appreciated, as we want to keep our luggage as small as possible when we are on the go.
Japanese alignment can be used for both Windows and Mac.
Unlike Logitech and Elecom, Keychron is not so famous in Japan, probably because it is basically an English-language model.
Basically, there is no Japanese-language layout unless Kopec Japan, an authorized distributor, releases a Japanese-language layout.
It is also true that they are slightly more expensive than the two well-known manufacturers mentioned above, making them difficult to afford.
After all, the Keychron K7 is also one of the more expensive keyboards, at around 17,000 yen, but since it uses a Japanese layout and is available for both Windows and Mac, few people will be reluctant to accept it.
Kawamura
The key layout is not so irregular, except that the directional keys are arranged in the lowest row.
65% array for easy portability.
Personally, I believe that a keyboard with a solid typing feel is much faster and more accurate than a pantograph keyboard on a laptop, and I am more efficient at my job because I can type more accurately.
With this in mind, some of you may be carrying around an external keyboard.
The problem for such a person would be the size and weight of the keyboard.
The Keychron K7 JIS, on the other hand, weighs only 400 g and is very compact thanks to its 65% layout.
It is the perfect model to carry around.
Kawamura
In the 65% layout, the topmost function key is omitted.
See also this article for more information on using the 65% layout keyboard.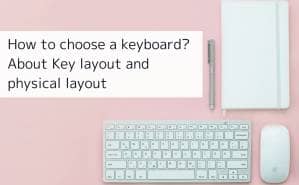 Low-profile optical key switches for quiet and comfortable typing
The major low-profile mechanical key switch is the conventional "mechanical method.
Although they are often used by manufacturers such as Gateron and Kailh, the Keychron K7 JIS uses Keychron Optical keyswitches.
Thus, instead of the usual switch type, the ON is determined by reading the signal converted into light instead of a conductor, which is characterized by a faster response than usual.
Another appeal of this product is that it is thinner than a typical key switch, which saves space.
Keychron Lowprofile Optical Swithces
Red Switches

Blue Switches

Brown Switches

White Switches

Yellow Switches

Green Switches

key load
40±10gf
48±10gf
57±10gf
30±10gf
57±10gf
67±10gf
Movement to operation
1.1±0.3mm
1.1±0.3mm
1.1±0.3mm
1.1±0.3mm
1.1±0.3mm
1.1±0.3mm
Overall movement
2.5±0.3mm
2.5±0.3mm
2.5±0.3mm
2.5±0.3mm
2.5±0.3mm
2.5±0.3mm
reaction
linear
clicky
tactile
linear
early bump
tactile
early bump
tactile
sound
quiet
clicky
gentle
quiet
gentle
gentle
sound sample
Keychron K7 JIS is a must try!
These are the Keychron K7 JIS-arranged models.
The combination of the three aforementioned factors will make it the "most useful input device on the go.
The typing noise is also very quiet and does not bother me at all when I use it in my office.
The recommended axis is the mint or banana axis.
If you like a slightly heavier feel, the mint axis will be better for you, and if you prefer a slightly lighter feel, the banana axis will be better for you.
Both are blamed for whether the tactile feedback of a tugging sensation that lets you know that you have "hit" is returned, thus reducing the number of typing errors.
I hope you give it a try!