On August 15, 2023, NuPhy began soliciting comments on social networking sites such as X (formerly Twitter) for the Air75v2, the next model of the Air75.
At the time of writing, Instagram has received numerous comments.

Representative of GreenEchoes Studio
He launched his own media as a site operator and web writer, and now plans and manages multiple corporate media. He often types heavily in his work, and in his search for greater efficiency, he became addicted to the keyboard swamp and established "GreenKeys".
Click here for a list of coupon codes ▷▷▷
Find a keyboard layout you like.
Comments on NuPhy Air75v2
Many of the comments are from English-speaking countries, which once again shows the worldwide popularity of the site.
The following request comments stood out
I need an ISO layout.
Create a MacOS-compatible version of the NuPhy console and
I'd like to see a built-in tilt leg so I can add a tilt angle.
I want QMK to be supported.
I would like a discount coupon for those who have V1.
I need more battery capacity.
I want other coloring.
In addition to the Air75, we also saw comments such as "I would like to see an ergonomic keyboard released.
On the other hand, it is surprising that requests related to keystroke feel were hardly noticeable.
Major changes in the low-profile mechanical keyboard market
Compared to when the Air75 was released, competition in the low-profile mechanical keyboard market has intensified.
Especially when it comes to key feel, the Air75v1 cannot compete with the Air75v1.
Furthermore, it seems to me that few users will be satisfied with the key feel if the Air75v2 is simply released with Air96 specifications upgraded with sound-absorbing material and new key switches.
The number one reason for this is the rise of rivals.
Specifically, the author believes that the Lofree Flow, with its gasket-mounted structure and blistering strike feel, is hard to beat.
First, please see this comparison video.
This video compares the following models with Lofree Flow.
0:12 vs NuPhy Air60 Mod(Daisy)
0:28 vs Keychron K7(Mint)
0:47 vs NuPhy Air96(Wisteria)
1:09 vs Apple Magic Keyboard
1:33 vs MX MECHANICAL Mini
The closest to the Air75 is the Air65, but this one has a much tighter sound due to the inclusion of a silicone damper created by the author.
Therefore, if we were to use a mock Air75v2 as a reference, it would be the Air96, but the bottoming sound was very loud and the keystrokes seemed to be very clumsy.
Air75v2 evolution must go beyond Air96
The above is an introduction to the Air75v2 interest check.
Since Lofree is now on the market, Air75 is definitely at a considerable disadvantage in terms of key feel.
As for Keychron, they have released a series of low-profile products that are compatible with QMK/VIA, and as for Lofree, it seems technically possible to support VIA through future updates, so it will be interesting to see how they differentiate themselves from their competitors.
It will be interesting to see how the already old low-profile males will evolve.
Additional Information
X (formerly Twitter), and the follow-up reports are coming up one after another.
NuPhy Air75v2 has retractable tilt legs
NuPhy Air75v2 is available in three new colors
Upgraded polling rate in the 2.4 GHz band to 1000 Hz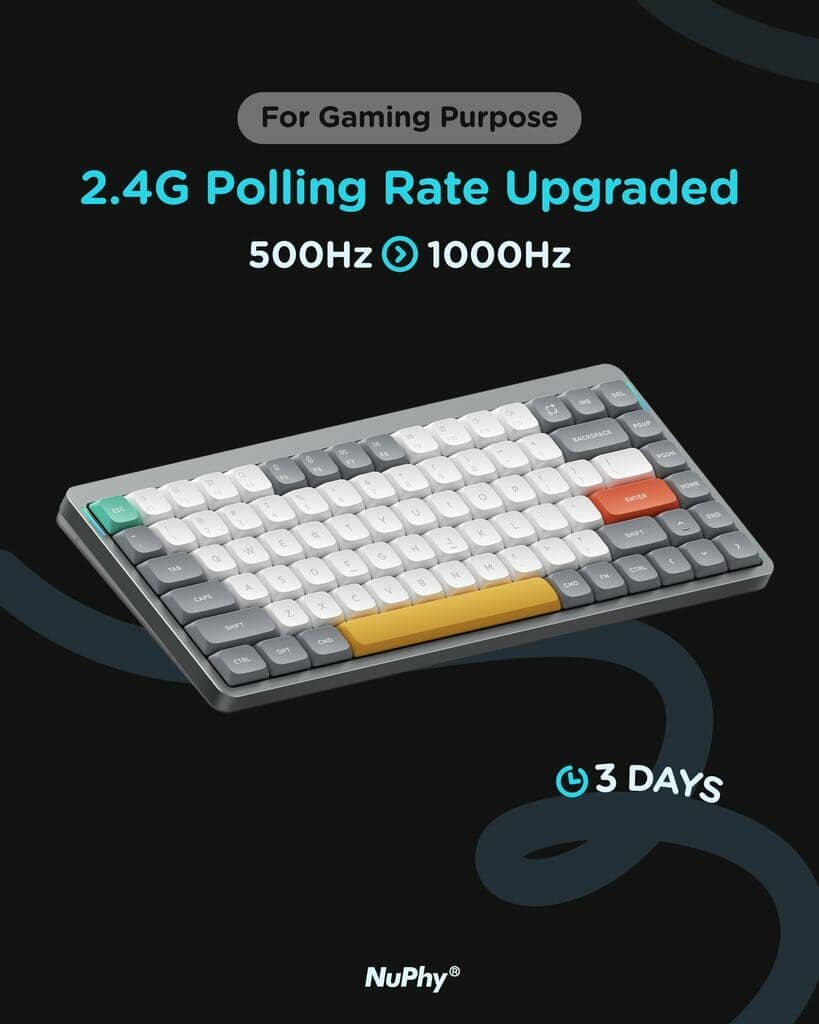 NuPhy Air75v2 finally QMK/VIA compliant
New keyswitches to be announced