The extremely popular mechanical keyboard, which has been purchased by 1,381 backers on the famous worldwide crowdfunding site KickStarter, is now available in Japan through GREENFUNDING.
Its name is Lofree Flow.
The greatest feature of this keyboard is that it has a different typing feel from the thin keyboards that are commonly used, and it will surely update your typing experience.
The different dimension of keystroke feel will not only improve work speed by increasing typing speed, but also provide a pleasant sensation due to the ASMR-like element.
This article will provide an in-depth review of Lofree Flow.
Please watch to the end!
Crowdfunding for Lofree FLOW in Japan has ended.
It is currently available on the official website.
メリット
極上の打鍵感が素晴らしい
シンプルで洗練された外観がおしゃれ
薄型軽量で収納場所にも困らない
技適取得済みで日本でも無線接続が可能
デメリット
日本語配列がなく英語配列のみのラインナップ
一般入手がまだ難しい
交換用キーキャップの選択肢が少ない
交換用キースイッチが市販されていない
キーマップの変更ができない(QMK /VIA /VIAL非対応)

Representative of GreenEchoes Studio
He launched his own media as a site operator and web writer, and now plans and manages multiple corporate media. He often types heavily in his work, and in his search for greater efficiency, he became addicted to the keyboard swamp and established "GreenKeys".
Click here for a list of coupon codes ▷▷▷
Find a keyboard layout you like.
About Lofree Flow
Let's start with an overview of Lofree Flow.
Features and Specifications
About Pricing
Regular price: ¥29,800
| | Number of units sold | Price | discount rate |
| --- | --- | --- | --- |
| fastest rate | 200 units | ¥20,860 | 30%. |
| super-early bird special | 400 units | ¥21,750 | 27% (%) |
| super-early booking | 600 units | ¥22,640 | 24%. |
| discount for early booking | unlimited | ¥23,240 | 22%. |
| Double Fastest Discount | 50 units | ¥39,920 | 33%. |
| Double Super-Early Bird Special | 100 units | ¥41,720 | 30%. |
| Double Super Early Bird Special | unlimited | ¥43,500 | 27% (%) |
About Options
| | | |
| --- | --- | --- |
| switch set | ¥7,560 | 20%. |
| Tool set for hot swap | ¥3,460 | 20%. |
| Keycap Set | ¥8,800 | 20%. |
Smooth and quiet mechanical keyboard with Kailh POM switches
Available in white (linear axis) or black (tactile axis) coloring
Gasket-mounted design for a softer, thocky sounding feel
Thickness of only 18mm
Hot-swappable, freely interchangeable keyswitches and keycaps
Can be used wirelessly or wired
Mac/Window compatible
Equipped with RGB sidelights to color around the keyboard
| | |
| --- | --- |
| Number of keys | 84 |
| key type | Low Profile Mechanical Keys |
| Battery life | Approx. 3 months |
| weight | Approx. 568g |
| Supported OS | Windows/Mac/iOS/Android |
| Charging time | Approx. 3 hours |
| Continuous usable time | Approx. 40 hours |
| Bluetooth Name | Flow84-LP |
| Operating distance | Approx. 10m |
| Size | Approx. 306x123x22mm |
Replacement keycap set
contents
The contents include the main unit, USB Type-C ↔ Type-A cable, user's manual, and warranty card.
About the Manufacturer "Lofree
Lofree is a lifestyle brand founded in 2017.
In addition to keyboards, the company offers office products, gadgets, makeup products, kitchen appliances, and much more.
Lofree's brand concept is "FUN 2㎡".
Releasing products that focus on what is within one's reach, the company's mission is to bring products to the world that spice up a boring life.
A typical product would be The Dot series keyboards, which won high praise on Indiegogo in 2017.
It appears that more than 2 million units have been sold worldwide.
Kawamura
According to the Japanese marketing manager, FLOW is the first time Lofree has entered the Japanese market.
As you can see from the official website, we deal in many fashionable goods that Japanese people seem to like.
I would love to see it become readily available in Japan as well!
Features of Lofree Flow as seen in actual machine images
Let's take a look at the features of Flow based on images of the actual device.
The first thing that can be seen is the thinness of the body.
It is hard to believe that the gasket-mounted structure is such that the PCB base floats in a thickness of only 18 mm.
You can see that various types of sound-absorbing materials are installed in such a thin material.
The housing is made entirely of aluminum alloy and looks very cool.
The bezel portion of the main unit is approximately 10 mm thick, and the included parts create a 3.9 degree tilt angle.
The key tops are flat, as is typical of low-profile models, and give the impression of being very easy to type on.
The keycaps are made of thick PBT and do not look cheap at all.
Kawamura
The early Keychron and NuPhy ABS keyswitches were thin and did not have a good feel, but Flow seems to have done a very good job of studying this aspect.
In addition, since the keycaps are made of PBT, they are virtually free from the shine that tends to occur with Macbooks and other products over time.
As for the key switches, POM switches jointly developed with Kailh are used.
I checked the footprint and it is not compatible with Gateron low profile or Kailh choc v1/v2 and is believed to be proprietary.
This keyswitch can be removed with a special pin and replaced by yourself.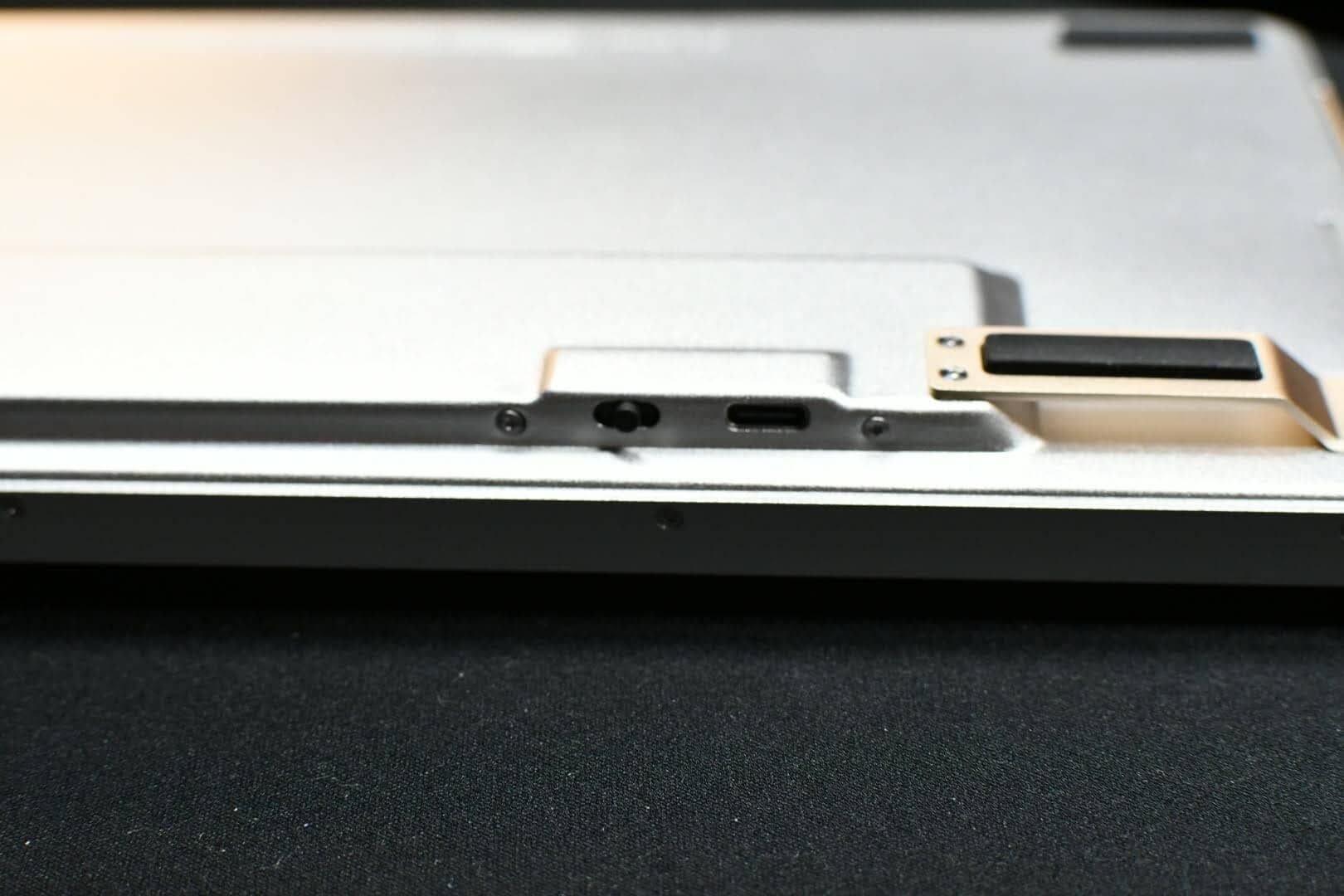 On the back is a USB Type-C connection and a power switch and wired/wireless switch.
Kawamura
It will be nice to know that the product has acquired Japanese technical certification in time for this crowdfunding in Japan, so it can be used for wireless connectivity.
Beautiful lighting would also be a very high point.
For more images, please visit the gallery below!
Lofree Flow is recommended as a point of interest.
Let's take a look at some of the recommended highlights of Lofree Flow.
Lofree Flowをおすすめしたい注目ポイント
Superb keystroke feel
Stylish with a simple and sophisticated appearance.
Thin, lightweight and easy to store
Wireless connection is available in Japan with technical certification.
Superb keystroke feel
The number one recommendation for the Lofree Flow is without a doubt the great feel of the keys.
Please watch this video first.
The sound is very smooth, angular, and has a core sound, right?
The mainstay of mechanical keyboards is the normal profile, and low-profile keyboards tend to have shallow strokes, and their thinness inevitably results in a loss of key feel.
However, with Flow, there is no compromise at all in the key feel.
Kawamura
The above comparison video is a recording of the keystroke sound of my Lowepro keyboard.
You can clearly see that only Flow's keystroke sound is of a different dimension.
Stylish with a simple and sophisticated appearance.
Flow is also great to look at.
The simple white keycap and aluminum frame give it a rigid feel, and you will be satisfied with its cool presence just by being there.
Yeah, it's cool.
Thin, lightweight and easy to store
Thus, if you look at it overlaid on the HHKB, you can clearly see how thin it is.
At 10 mm at its thinnest point and an astonishing 18 mm at its thickest point, it can be stored upright without worrying about space.
It is slightly large in size, but this will not be a concern once it is stored upright.
Wireless connection is available in Japan with technical certification.
Lofree Flow has obtained the technical certification in time for this crowdfunding in Japan.
Certification number: 211-230707
Therefore, Bluetooth connectivity is available in Japan.
Kawamura
The reality is that keyboards made by foreign manufacturers are not technically compliant and often have specifications that only allow (or do not allow) wired connections in Japan.
In this respect, the attitude of the company to enter the Japanese market after obtaining a firm technical qualification shows how serious it is.
Things to consider before purchasing Lofree Flow
Many of you are probably already tempted to buy one because of its superb keystroke feel and looks.
But wait a minute.
Read the following notes carefully so that you will not regret your purchase.
No Japanese layouts available, only English layouts
Still difficult to obtain for the general public.
Fewer options for replacement keycaps.
Replacement key switches are not commercially available
Unable to change keymap (QMK /VIA /VIAL not supported)
No Japanese layouts available, only English layouts
You may have noticed that the Enter key is long horizontally.
Yes, Flow is not a Japanese layout, but an English layout.
Moreover, there is no Japanese-language layout.
Probably the majority of Japanese users are using Windows, but the most annoying thing for Windows users using the English layout is the lack of a "half/full-width" button.
However, it is not impossible to switch between Japanese and English.
To switch between alphanumeric ⇄ Kana, use the control + (English) Spece (Mac) or " Alt + … ~" (Mac) or "Alt + Spece (Windows)" to switch.
Other characters such as "@", "()", and "³" are different and require a bit of getting used to.
Still difficult to obtain for the general public.
At the time of writing, Flow is not for sale to the public and can only be obtained through GREENFUNDING.
The low general availability of the product is a disadvantage, as it is not yet available on the official website.
Another disadvantage is that the psychological hurdle to purchase is slightly higher, since it is not possible to touch the actual device in the electronics department as is the case with mass-market keyboards.
Kawamura
According to the marketing manager, the company will consider offering the product on Japanese mail-order sites in the future after seeing how popular it is through crowdfunding.
Fewer options for replacement keycaps.
Crowdfunding offers a choice of optional keycaps in the three colors listed above.
However, there are few Cherry MX axis compatible (i.e., Flow compatible) low-profile keycaps on the market worldwide.
That is why it is handled by rival manufacturers Keychron and NuPhy, and also releases a brand called XVX.
One of the best parts of a mechanical keyboard is the replacement of keycaps, so it is important to remember that it is difficult to choose different keycaps.
Kawamura
That said, Keychron and NuPhy keycaps are also quite varied, so this is not a disadvantage.
Replacement key switches are not commercially available
Because Flow uses proprietary low-profile keyswitches developed with Kailh, it is not possible to choose third-party replacement keyswitches at this time.
The dedicated key switches are also not available for purchase at this time and will need to be obtained in conjunction with the crowdfunding.
Kawamura
The blue axis is quite loud, so if in doubt, go for the linear or tactile axis.
Unable to change keymap (QMK /VIA /VIAL not supported)
Flow cannot change the keymap.
Many of you may not be familiar with the term "key map.
A keymap is the physical arrangement of a keyboard.
Usually, it is sufficient if you can type exactly as the keys are printed on the keyboard, but in the mechanical keyboard community, there are many models that allow you to change the keymap to your liking.
For Windows users, customization is popular, such as replacing the CapsLock key, which is not used at all, with something else, or changing the "half/full-width" key to a location that is easier for you to type.
However, many of the people who are considering purchasing Flow at this time are those who were able to type without any problems without these keymap changes, so there is no need to worry about it at all.
Kawamura
Technically, he said, it is possible to change the firmware so that the keymap can be changed for FLOW.
Perhaps a post-purchase update could be made to accommodate keymap changes.
I would like to hope for the best!
summary
This is my review of Lofree Flow.
I have reviewed numerous keyboards and Flow is the first one I have rated with 5 stars.
I recommend it with confidence as a product with such a high degree of perfection.
To purchase, please visit our crowdfunding page.
Would you like to join us for a superb typing experience?
Image and information from: KickStarter / Lofree / Lofree Flow /GREEN FUNDING
Frequently asked questions about Lofree FLOW
This section answers some frequently asked questions about Lofree Flow.
日本国内でも無線接続は可能ですか?
Possible.
Lofree FLOW has obtained a technical adaptation certification for sales in Japan. Therefore, use in Japan does not violate the Radio Law. ( Certification number: 211-230707 )
黒のキーキャップが良いのですが、タクタイル軸しか選べないのですか?
Unfortunately, the standard keyswitch for the black keycap is a tactile axis, so no other keyswitch can be selected.
However, it is possible to change even black keycaps to linear axes by purchasing and replacing a replacement keyswitch set, which can be purchased additionally as an add-on.
交換用のキーキャップとキースイッチはどこで購入できますか?
Replacement keyswitches and keycaps can be purchased through add-ons on the crowdfunding site. Keyswitches are available in linear, tactile, and clicky axes, and keycaps are available in Retro and Alert.
Also, although made by a third party, Keychron's latest low-profile keycaps and NuPhy's low-profile keycaps can probably be used as well. However, fitting is the responsibility of the user.
黒または白のキーキャップの単品販売はありますか?
The default keycap does not appear to be sold individually at this time.
If it becomes more popular in Japan, perhaps it could be sold.