I have the impression that they have thrown a tremendous variety of pitches.
On February 11, 2023, Keychron updated its official Twitter account to announce a new model, the Keychron Q12.
An exceptional 96% layout with a left-positioned Numpad will fulfill your long-felt need! Our Keychron Q12 will be available on Tuesday. #KeychronQ12 #customkeyboard #lefthanded #southpawkeyboard #mechanicalkeyboard pic. Kb1y7TpW7q

– Keychron (@KeychronMK) February 11, 2023
As you can see, the arrangement is quite irregular.
Information and image reference: Keychron Q12

Representative of GreenEchoes Studio
He launched his own media as a site operator and web writer, and now plans and manages multiple corporate media. He often types heavily in his work, and in his search for greater efficiency, he became addicted to the keyboard swamp and established "GreenKeys".
Click here for a list of coupon codes ▷▷▷
Find a keyboard layout you like.
What is Keychron Q12? Anomalous 96% layout keyboard with number pad on the left side
Keychron Q12 is a 96% alignment mechanical keyboard with a number pad on the left side.
The conventional mechanical keyboard convention is that the numeric keypad (number pad) is on the right side of the keyboard, but this is an innovative and irregular keyboard in the sense that it breaks with the conventional convention.
Keychron OSA Profile Double shot PBT keycap adoption
QMK/VIA support for keymap remapping
Switchable between macOS and Windows
Wired connection only, no wireless connection
Double gasket construction for soft keystroke feel
Selectable keyswitch is Gateron G Pro 2.0 Red/Brown
Equipped with programmable rotary encoder knob
Equipped with screw-in PCB stabilizer
Not for left-handers, but recommended for right-handers
As the official website states, right-handers as well as left-handers will find this design easy to use.
It is possible to avoid the wasteful practice of operating the mouse with the right hand, then leaving the right hand to hit the number pad, placing the hand on the number pad, and so on….
The main use is the macro pad.
Perhaps the expected use for the Q12 would be a macro pad for the left hand.
If Fn (Mo1) is used as a number pad in the normal layer, and after setting Fn (Mo1) in a position where it can be pressed with the left-hand pinky, a macro can be assigned to each key, allowing the user to press shortcut keys while operating the cursor with the right hand.
Also, if you want to completely separate it as a macro pad, you can wave a shortcut key at the layer 0 stage.
Custom keycaps, such as AKKO, make allocation easy.
Reactions on social networking sites to the announcement of Keychron Q12
Keychron is vigorously introducing new products, and its fans are found all over the world.
The announcement was received with considerable shock by those fans.
Love seeing the south-paw layouts lately! https://t.co/3EaP4642wW

– The Manic Geek Just Wants Peace (@TheManicGeek) February 11, 2023
Kawamura
Personally, it was interesting to see many of the people I follow.
Thus, the reception has been quite friendly to Keychron fans, giving the impression of a welcoming reception for the product release.
Their acceptance as potential early adopters is critical.
Indeed, many people will often operate the numeric keypad with their right hand while using the mouse (or trackball/trackpad) with their right hand.
However, this is quite inefficient if you think about it, since you cannot use the number pad while holding the mouse.
In that sense, it is a very reasonable layout.
We have been touting the Keychron Q0/Q0 Plus as a "superior left-handed device," and this announcement is official confirmation of that.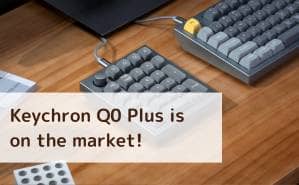 As someone who encourages left-handed operation of devices, I am very pleased with this announcement.
#Today's Setup #Keyboard

Today we start with Keychron Q60 practitioner style.
It has been 10 months since the switch to US array.
We changed to the HHKB layout at the end of last year and finally got here.
There still seems to be some suspicious parts, so let's fit the suspicious parts with print… w pic.twitter.com/Xf1Srwzoc3

– Ryosuke Kawamura|Green Echoes Studio (@Hottyhottea) February 11, 2023
#Today's Setup #Keyboard

Today it is 7sPro.
Converted to Gateron Oilking. pic.twitter.com/AyHt1qzdNl

– Ryosuke Kawamura|Green Echoes Studio (@Hottyhottea) January 29, 2023
More keyboard images from @Hottyhottea ▷▷▷
Keychron Q12 specs details
| | |
| --- | --- |
| Width | 145 mm |
| Length | 409.4 mm |
| Front Height | 20.2 mm (without keycaps) |
| Back Height | 30.9 mm (without keycaps) |
| Feet Height | 2.4 mm |
| Angle | 5.3° |
| Weight | 2491 ± 10 g (Fully Assembled Version) |
| Body Material | Full CNC machined aluminum |
| Plate Material | Steel |
| Polling Rate | 1000 Hz |
| Fully Assembled Version) | Double-shot PBT keycaps, not shine-through, OSA Profile (OEM height, SA shape) |
| MCU | Ultra-low-power ARM Cortex-M4 32-bit STM32L432 (128KB Flash) |
| Switches | Gateron G Pro (Fully Assembled Version) |
| Backlight | South-facing RGB LED |
| Switch Support | Hot-swappable (5 pin & 3 pin) |
| Stabs. | Screw-in PCB stabs |
| Connectivity | Type-C |
| Cable | Type-C cable + Type-A to Type-C adapter |
| Operating Environment | -10°C to 50°C |
Information reference: https: //www.keychron.com/products/keychron-q12-qmk-custom-mechanical-keyboard
Is a split keyboard the next release for Keychron, which is releasing new products at a high pace?
This is our report on the release of Keychron Q12.
As for Keychron, the pace of keyboard announcements has been very fast since last year, and it seems that most of the keyboards with layouts available on the market have been exhausted.
So the next thing we are waiting for is a "split keyboard".
The Freestyle series by Kinesis and the BAROCCO series by Mistel are well-known ready-made products.
Kinesis
¥20,080
(2023/12/05 13:09:50時点 Amazon調べ-
詳細)
Kinesis
¥24,580
(2023/12/05 13:09:50時点 Amazon調べ-
詳細)
ミステル(Mistel)
¥19,800
(2023/12/05 13:09:48時点 Amazon調べ-
詳細)
ミステル(Mistel)
¥22,158
(2023/12/05 13:09:47時点 Amazon調べ-
詳細)
Comments on this announcement also expressed a desire for a split keyboard.
Unique keyboard. Since you folks make a number of unique keyboards, I must ask – are there any plans for a fully wireless (no connection between the two sides) split mechanical keyboard?

– Content Aware Philippines (@windowchopping) February 11, 2023
The split keyboard is quite niche in the genre and has become very popular in the homebrew keyboard community.
I think the release of this by Keychron will bring more attention to the keyboard community, including the homebrew keyboard community.
I am looking forward to it.