On April 11, 2023, MELETRIX launched the ZOOM75 custom mechanical keyboard.
The launch will be offered by 22 vendors worldwide, including the original MELETRIX as well as MELETRIX.
The vendor in Japan is Yousha Kobo, and the Group Buy ends on April 26, 2023, so you'd better hurry if you want to get one.
According to Yousha Kobo, the shipment is scheduled to begin in June 2023.
Note that the Zoom75 purchased at Yusha Kobo does not come with key switches and keycaps, which must be purchased separately.
Kawamura
Five types of keycaps, which are GBs, are available for purchase at Yousha Kobo.
Other colors should be purchased from the official website.
Image reference and information reference: MELETRIX

Representative of GreenEchoes Studio
He launched his own media as a site operator and web writer, and now plans and manages multiple corporate media. He often types heavily in his work, and in his search for greater efficiency, he became addicted to the keyboard swamp and established "GreenKeys".
Click here for a list of coupon codes ▷▷▷
Find a keyboard layout you like.
Zoom75 Overview
Zoom75 is a 75% layout mechanical keyboard by Meletrix, a keyboard brand in Beijing, China.
After purchase, the product must be assembled, and is classified as a so-called "DIY kit" that allows users to create their own original keyboards by combining custom parts.
Kawamura
It is easy to assemble as there is no need to solder the keyboard like a self-made keyboard, just fasten the screws and assemble it.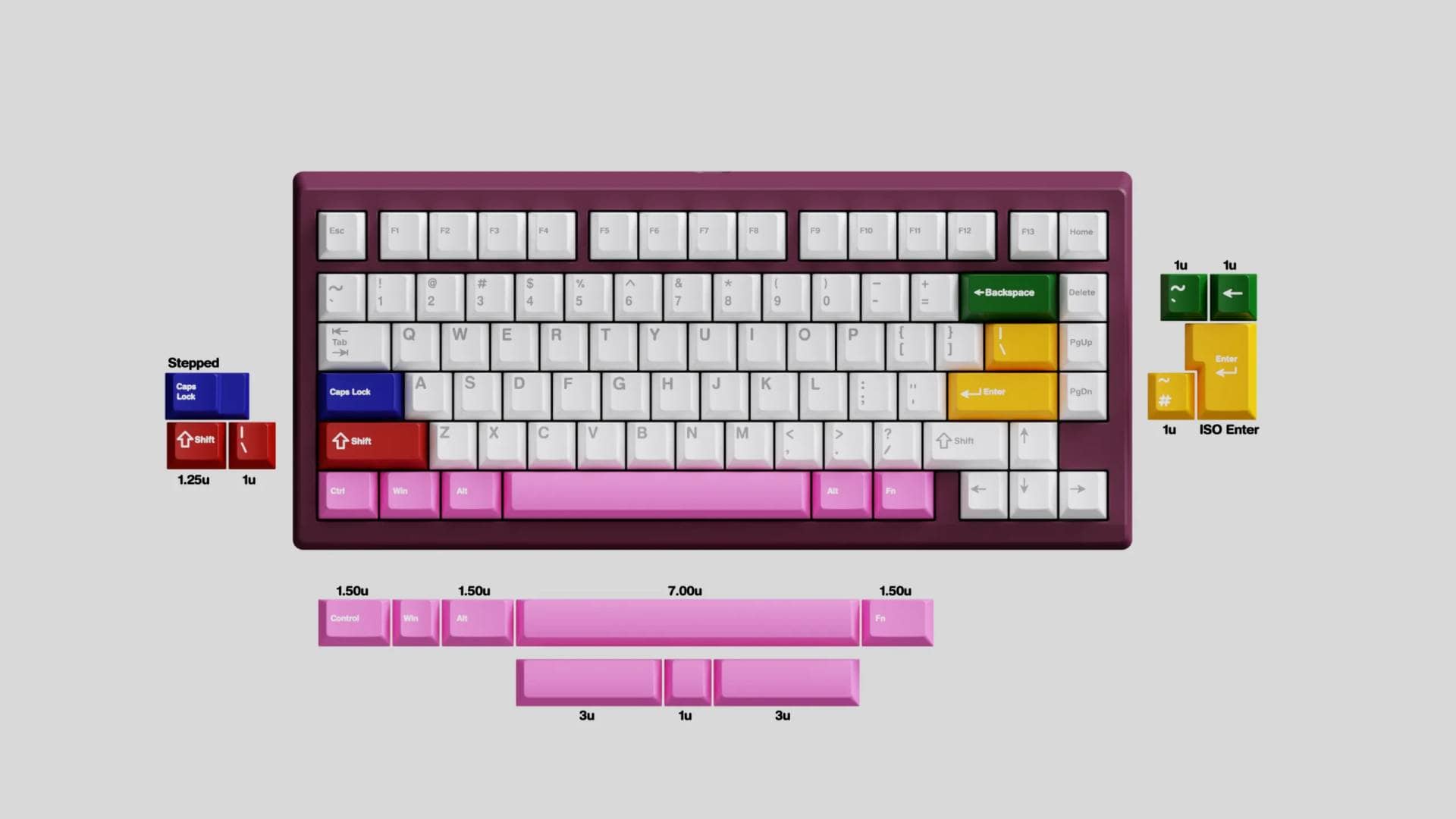 The hot-swappable PCB base and multiple layouts allow users to choose their preferred key layout, such as split backspace, split space bar, and so on.
Personally, I think the ability to use the HHKB layout is a very nice specification.
Perhaps the most distinctive feature of the Zoom75 is that the upper right portion is modular.
Thus, the 2U space in the upper right corner can be selected and changed from four patterns: "key + knob", "LCD", "badge", and "2-key".
2U Color LCD
Knob type
Three types of knobs are selectable: "cat's paw", "silver bear", and "rabbit" Rotary knob that can change its behavior with VIA.
Badge Type
There are 11 badges to choose from.
In addition to the 15 regular colors, four special colors are available: anodized black, anodized orange, anodized lavender, and E-white.
With a choice of 13 colors for the back plate and 9 colors for the weights, it can be said that you can really customize it to your liking.
Kawamura
The Meletrix official website also provides a mechanism to simulate the combination, which we hope you will find useful.
In addition, Zoom75 features a system that allows thorough attention to key feel and sound.
The Zoom75 uses a "gasket mount" that allows the PCB base to float in mid-air, providing a soft and resilient typing feel.
The gasket sleep is also not too soft and not too hard, so typing will be well-balanced.
Plates are also available in brass, aluminum, FR4, POM, carbon fiber, and PC, so you can change the key feel to your preference. (The default plate is PC (polycarbonate).
| raw materials | feature |
| --- | --- |
| POM | Soft. It softens the feeling of bottoming out. POM stands for polyoxymethylene, a type of thermoplastic resin. |
| FR4 | Harder than resin-based materials, but relatively soft. It is made by layering layers of fiber glass. |
| Carbon Fiber | Harder and more elastic than resin-based materials. Loud keystroke sound. Softer than aluminum. |
| Aluminum | A safe material that is neither too hard nor too soft. It is not suitable for those who seek a soft, synthetic resin-based key feel. |
| Copper | Very hard. The key feel is also hard. |
Some reference: Self-Mede Keyboards in Japan
The PCB and bottom case are made of PORON, which will add depth to the sound.
Of course, it is VIA-compatible, with a choice of three different connection methods.
Kawamura
Please contact the domestic vendor for technical compliance.
Reference: Yusha Kobo