On October 31, 2023, popular keyboard brand NuPhy began taking pre-orders for the NuPhy Air96v2.
As for NuPhy, we have been working on "v2-izing" the existing Air series of low-profile mechanical keyboards, and this is the third in the series following Air75v2 and Air60v2.
The Air96 with 96% layout is a relatively recent model released in January 2023, and one of the central measures of this V2 conversion, "noise reduction," has already been implemented in the product, so the main part to be substantially renewed is the PCB board.
This article describes the features of Air96v2 based on the differences from its predecessor.
Sales Details
Reservations begin: October 31, 2023
Reservation deadline: November 30, 2023
Estimated delivery date: All orders placed before November 30, 2023 will be shipped starting December 15, 2023
Price: $129.95-139.95 (body)/$35.00 (PCB only)
Color: Lunar Gray/Iconic White/Basalt Black
Selectable keyswitches: 7 types (Gateron LP 2.0 Red/Brown/Blue/NuPhy Aloe/Wisteria/Cowberry/Moss)
Pre-order benefits
Complimentary set of shine-through keycaps (retail value $19).
50% off a set of COAST keycaps (Retail $24)
48% off NuFolio V3 (Retail $29)
47%-50% off Mono Wrist Rests (Retail $19-$24)
*Only one set of free keycaps will be provided per car. If more than that, an additional fee will be charged.
Please note that the 10% off coupon code from our site's partnership with NuPhy can be used even for pre-order purchases.
Happy 10% OFF Coupon : [ ryo10 ].

Representative of GreenEchoes Studio
He launched his own media as a site operator and web writer, and now plans and manages multiple corporate media. He often types heavily in his work, and in his search for greater efficiency, he became addicted to the keyboard swamp and established "GreenKeys".
Click here for a list of coupon codes ▷▷▷
Find a keyboard layout you like.
Features of NuPhy Air96v2 and differences from its predecessor Air96v1
Air96 V2
Air96 V1
QMK/VIA Support
symbol used as a placeholder (either because a number of other words could be used in that position or because of censorship)
×
2.4GHz polling rate
1000Hz
500Hz
Battery capacity
4000mAh
4000mAh
tilt leg
built-in
built-in
keycap
Double-shot PBT
Double-shot PBT
Selectable key switches
Gateron LP 2.0 Red/Brown/Blue
NuPhy Aloe/Wisteria/ Cowberry/Moss
Gateron LP 2.0 Red/Brown/Blue
NuPhy Aloe/Wisteria/Daisy
Sound-absorbing foam
Equipped (with space bar silicone)
Equipped (without space bar silicone)
Available Colors
Lunar Grey (color, colour)
Basalt Black
ionic white
Lunar Grey (color, colour)
ionic white
Price
$129.95-139.95
$119.95-129.95
As you can see from the table, there is little difference between v2 and v1 in terms of hardware.
The most significant change has been the support of QMK/VIA.
Compatible with QMK /VIA
The most significant evolution of the Air96v2 is in the PCB board.
The previous work also supported keymap changes, but they were made using the original software (NuPhy Console), which was by no means easy to use.
With this update, QMK /VIA is now supported, and the keymap can be changed intuitively on the GUI using a web application called "VIA".
Improved polling rates for wired and wireless connections
The Air96v2 has a new PCB board, which has greatly improved the connection speed compared to its predecessor, especially with the USB dongle.
The connection speeds for BT and wired connections are also much faster.
This is a great update for those who are considering using the system for games and other applications.
Cowberry /Moss added to selectable keyswitches
Starting with this update, the new keyswitches Cowberry (linear axis) and Moss (tactile axis) are available for selection.
On the other hand, Daisy (linear axis), which was used in the previous version, is not selectable.
For more information on keystroke sounds, please also see this video.
New colors: Basal and Black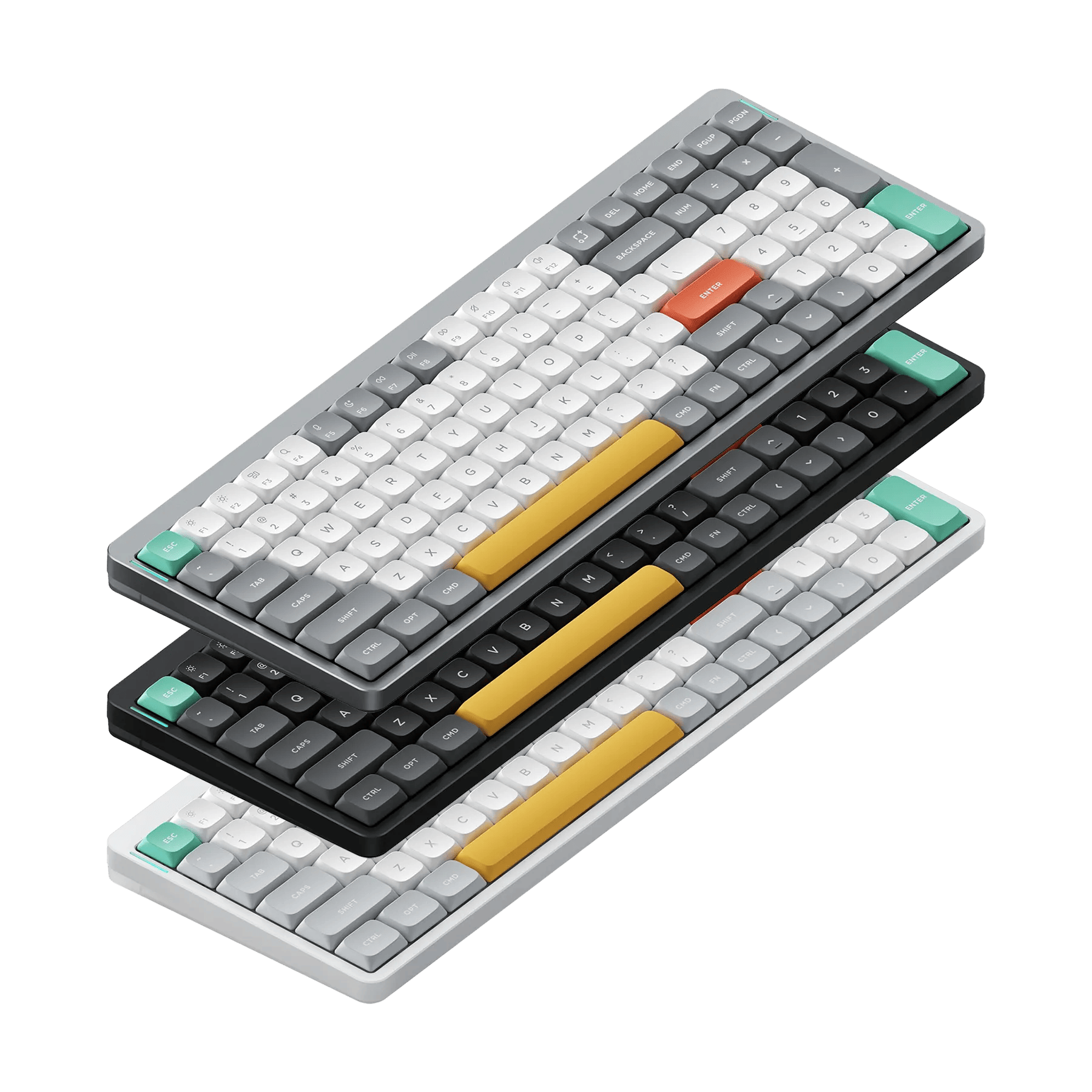 Basalt Black is newly added to the color lineup of the main unit.
This will bring the total number of colors to three, in addition to the existing Lunar Gray and Ionic White.
Important: Air96v1 users should purchase the PCB upgrade kit!
As we have seen, as far as the Air96v2 is concerned, very little has changed compared to its predecessor, except for the PCB board.
Looking at the recent v2 series, it is strongly implied that it is an update of the first Air series that was released with an outdated design, and the updates were mainly "PCB board compatible with QMK /VIA", "addition of new colors", and "enhancement of sound absorbing foam". However, for the newly designed Air96, it can be said that the only update is the "QMK/VIA-compatible PCB board".
Therefore, As for existing Air96 owners, there is little value in buying v2.
However, NuPhy also seems to be well aware of this and expresses it as follows
It has the unfortunate unintended side effect of effectively shortening the lifecycle of the Air96 V1, which was just released in January 2023.

NuPhy
Therefore, we proposed to sell only v2 PCB boards to existing model users.
However, replacement of the PCB board must be done by the customer, and any defects that may occur during the replacement process are not warranted.
However, it costs only $35.00, excluding shipping, which is very attractive.
Kawamura
The disassembly procedure is to remove all keycaps and keyswitches, unscrew and disassemble with a Phillips screwdriver, and then replace the circuit board. If you can assemble plastic models, it does not seem to be that difficult.
Buy Air96 V1 PCB Upgrade Kit ▷▷▷
In the meantime, a coupon code has been issued for existing Air96v1 users for a 20% discount, but you should definitely purchase the PCB board only.
Coupon code: AIR96UPGRADE
Summary|Air96v2 is recommended for those who want a numeric keypad in low-profile applications.
The above is a brief description of the new Air96v2.
Although there are no major changes compared to the previous model, it is a good choice for those who are looking for a new keyboard with a numeric keypad and a thin keyboard with excellent key feel.
Even if you do not plan to use it as a numeric keypad, you may be able to set up macros and create shortcuts to make your work more efficient.
Utilization as a dedicated gaming keyboard is sure to be satisfying, thanks in part to the faster polling rate.
Please consider purchasing by November 30, when the pre-order bonus is available.
Please note that the 10% off coupon code from our site's partnership with NuPhy can be used even for pre-order purchases.
Happy 10% OFF Coupon : [ ryo10 ].